A Techaisle SMB and Midmarket adoption trends study of over 5100 SMBs and midmarket firms found that managed services are a priority for 79% of SMBs and 97% of upper midmarket firms. Worldwide spending on managed services by SMBs and midmarket firms is estimated to reach US$104B in 2024. Data from the last five years also shows an increasing overlap between managed and cloud consulting services, with a growing need for cloud cost optimization, security and compliance, and cloud and storage optimization. In the final analysis, Techaisle expects strong growth for managed services as it directly supports critical business and IT needs.
The adoption of managed services is driven by several key factors. These include improving IT security and management processes, proactively identifying and fixing problems, reducing IT and business risks, and enhancing disaster recovery and business continuity readiness. However, the focus of demand for managed services is shifting from infrastructure management to areas such as core security and application management, business process automation, cloud management, analytics, AI, edge and observability management.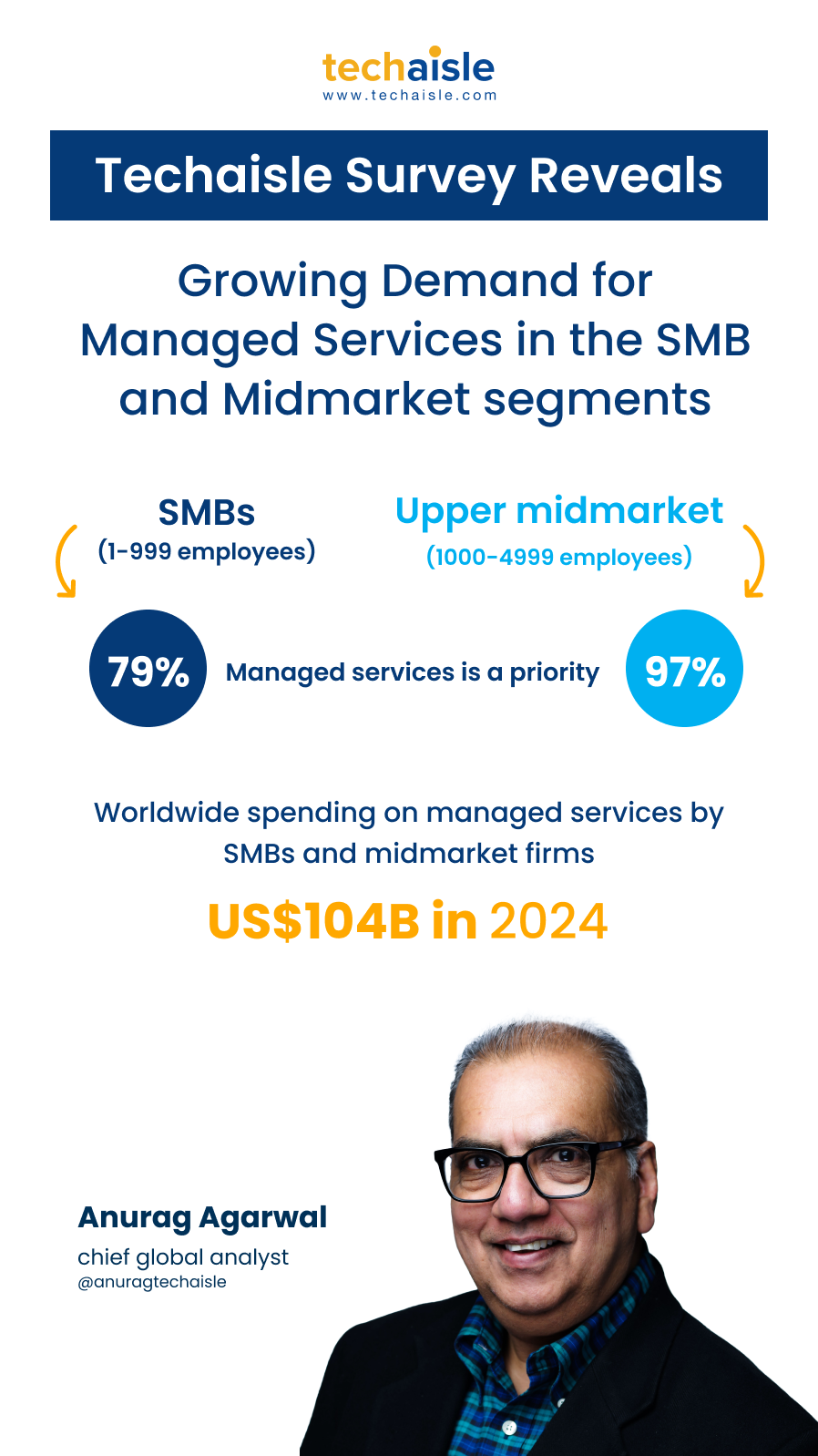 However, only 26% of very small businesses with 1-9 employees currently use managed services, with another 23% planning to adopt them. These businesses struggle most with finding appropriate suppliers – MSPs who understand and can work with companies that lack internal IT resources. Available funding is a crucial issue for smaller midmarket companies. These firms are likely pulled between the need to keep pace with IT opportunities and requirements and the need to oversee cash flow. Larger midmarket firms (500-999 employees) are challenged primarily by identifying solutions addressing operational support requirements. These companies have specific needs and require complex solutions. It is also a challenge for these firms to find qualified suppliers and develop a business case that can be absorbed by senior management.
Managed services are essential for SMBs as they address business and IT challenges directly. Managed services have been viewed to "keep IT costs under control," to "obtain greater accountability and flexibility," and to "maintain a lean business environment." All these motivations for managed services use relate directly to helping IT management with budget constraints, and IT cost control. It can, in turn, be tied to reducing operational costs at a business level. Managed services' ability to help users "achieve greater control of the IT environment" supports IT needs to maintain current IT infrastructure and executives' objective of managing uncertainty. Managed services SMB users report that "provide better IT response time," delivering "predictable performance, user experience and cost," and optimizing availability and performance while minimizing downtime are important reasons to embrace managed services. Data shows that there are 15 different attributes cited by more than 10% of small and midmarket businesses as reasons for using managed services, corresponding to the cost and growth factors highlighted above.
For an SMB, MSP evaluation is not an issue of matching a single attribute to a specific supplier: small businesses use an average of 3.2 criteria for MSP evaluation, and midmarket firms use an average of 3.6 criteria. Some issues are common to both segments. Both small businesses and midmarket enterprises look for contract flexibility and technical competence. Both groups also seek shared risk approaches, such as performance-based or savings-based service fees and reduced overall IT fees.
The data laid out in the research tells an interesting story. IT is a critical business issue within SMBs and has become more complex and labor-intensive. In response, SMBs have turned to managed services – as a replacement for in-house staff in microbusinesses and as a means of augmenting IT management in midmarket firms. The services themselves are becoming more complex, and suppliers will need to react to a market that is growing rapidly but is at the same time increasing the breadth of its demands.
SMBs and Midmarket firms are continuing their investments in transformation. Digital transformation provides enormous opportunities for the channel, it demands that channel members develop extensive new capabilities. It offers a means of establishing a business-level customer relationship that will secure ongoing/escalating account revenue and influence, which will improve the business outlook (and enterprise value) of firms able to capitalize on customer need for DX support. Firms focusing on a single type of product or service cannot act as trusted partners in digital transformation; instead, they will be suppliers to an ecosystem that IT management service providers tap into as they work with customers to evolve transformation capabilities.