20% of channel partners are offering "digital transformation", but most common is "digitalization" at 46% and balance 34% are still at the basic "digitization". MSPs/SPs are the laggards and VARs/SIs the leaders. Among vendors, Dell & Cisco partners are leading the charge. The channel industry examined by Techaisle's 2018 SMB/Midmarket focused channel research survey is very different from the community that existed a decade ago. Once a staid domain in which technologists provided IT infrastructure support to (mainly) local customers, the channel is being reshaped by five key issues in the face of digital transformation:
Cloud, and its wrenching effect on all aspects of the channel business structure – only 69% of are partners selling cloud, out of which less than 2/3rd are successful
Managed services efficiencies, especially vs. the pending opportunity associated with digital transformation – 77% are selling managed services but 50% are increasing on-site break-fix support
Increasingly-complex data center technologies - there is a skills shortage in the SMB channel
Orchestration & integration demands that are expanding in multiple directions – cloud orchestration expected to be a high-revenue growth area for only 23% of partners
The need to sell on and deliver to business outcomes rather than technical outcomes
The data in the report illustrates the extent to which these factors are affecting channel management decisions today and influencing the future directions. The report covers:
What is the state of channel?
What does the channel offer?
Where does the channel land on digital transformation, orchestration & integration?
What does the channel want from vendors & distributors?
How does the channel sell?
What is channel doing in the cloud?
What is channel doing in managed services?
What data center solutions is the channel selling?
With digital transformation as the backdrop, let us look at a summary of the five issues highlighted above:
---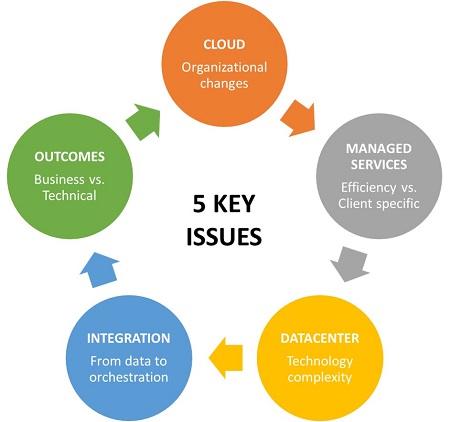 Cloud
Partners continue to be challenged by the wrenching, organization-wide change that cloud demands at all levels of the organization. Cloud is forcing new metrics and disciplines on management, which has historically worked to maintain sustainable per-deal margins on individual current transactions. It is requiring sales staff to sell differently – stressing recurring-revenue, OPEX-heavy 'pay as you go' contracts over larger one-time product transactions – and it is requiring sales management to compensate staff differently. Finance is dealing with a far more complex set of cash management requirements and is also needing to understand the valuation impact of different revenue recognition approaches. In the cloud, marketing's role is becoming larger, and its tools much more sophisticated; it is almost literally a different (and much higher value) activity in cloud than in conventional channel businesses. Even technical skills requirements are changing, as channel delivery staff is evolving from 'just in case' knowledge (often, recognized through certifications) to 'just in time' skills acquisition that responds to the rapidly-changing environment.
Clearly, cloud is imposing a daunting challenge on the channel. Techaisle data sees that some partners are working through this transition, but many, especially in markets where cloud has not caused large year-over-year decreases in product sales, are navigating a path that doesn't include top-to-bottom change. These firms will be under intense pressure as the market increasingly demands that partners support migration to and efficient use of hybrid infrastructure.
Managed Services
Managed services, with its efficient delivery and promise of higher margins and better enterprise values (due to MRR rather than transactional revenue) has become a major factor in channel business strategy. MSPs can increase shareholder returns without needing to meaningfully expand their customer rosters; they can invest in internal efficiencies to boost margins while simultaneously keeping pace with customer expectations, even in areas like managed security, where threat sources advance continuously, driving need for increased response capabilities.
But there are clouds on the managed services horizon. One is digital transformation, "the next big wave" which aligns poorly with managed services. Digital transformation requires a mix of on-site and remotely-managed capabilities, packaged discretely for individual customers – and this isn't what managed service providers aspire to. At the same time, the push towards everything-as-a-Service is morphing into SMB customer expectation of increasing service levels over time (or decreasing costs), rather than the fixed value for static service level approach used by today's MSPs (and IaaS suppliers as well). Can traditional MSPs move past the core business notion of one service, one price, delivered with high efficiency from a remote location, to address digital transformation and progressive service delivery expectations? In fact, most are going back to on-site installation & support.
Data center technologies
Data center technologies are another source of challenge for partners. Data center products – especially converged and hyperconverged systems that combine server, storage, networking and virtualization technologies – are much more complex than the client and server technologies that many channel members have focused on in the past.
Typical "one stop shop" VARs are lacking the technical depth needed to work with contemporary data center products. Specializations in current solutions take time, cost money and require skilled staff who is usually not affordable for – or even available to – channel members. But data also shows that VARs have the maximum depth in digital transformation and are involved in orchestration.
Orchestration & Integration
The nature of integration is changing. In an environment where core resources are located in many different physical environments, "systems" integration is becoming less a matter of physical connections and more an issue of automation and orchestration, which call for a distinctly different skill set. Meanwhile, customer interest in a multi-platform world is centering on data rather than systems integration: how can dispersed systems exchange data, securely and with the low latency needed to support workloads that span different environments?
The issue of integration is becoming more complex as businesses embrace IoT to provide a far more detailed view of their markets, and AI to make sense of the vastly-increased base or evidence that is used to support ever-more-rapid decisions. And demands on technology suppliers have already deepened with the need to secure these multiple platforms and sources. Integration offers an enormous opportunity for the channel – but this opportunity is accompanied by a demanding set of requirements.
Business Outcomes
Beyond all of the technology-driven change that the channel is adapting to, there is a shift in how customers are acquiring IT solutions. SaaS has shown buyers that they can acquire IT capabilities that map directly to business needs – they no longer need to take on the risk and uncertain time-to-benefit inherent in the purchase, integration and deployment of building-block technologies. At the same time, IT budget authority continues to migrate from IT gatekeeps to business managers who view technology as a means to achievement of process objectives, rather than as an end in itself. Both trends affect for channel sales and marketing professionals: within client organizations, the key customers are often non-IT professionals who are looking for suppliers to respond to business pain points with approaches that directly address the business requirements, rather than with traditional product-centric 'some assembly required' solutions targeted at IT buyers.
The ability to talk credibly to business outcomes vs. technology issues has become the key to selling solutions in today's market. Most vendors lack business-savvy sales staff – the issue is even more acute in channel firms. Cloud startups often speak to business rather than IT issues (and clients). Can the traditional channel keep pace – at least, enough to prevent services leakage to born-in-the-cloud alternatives?
In the report, Techaisle research demonstrates how channel partners are positioning their firms to navigate this turbulent environment. There may never have been a more stressful time to manage a channel business than 2018 – but channel managers have proven through time that they are adept at finding profitable paths through even the choppiest waters.
The report covers:
What is the state of channel? Channel Partner Business Issues, Firmographics
What is the global channel landscape? (Only in WW SMB/Midmarket Channel Report)
What does the channel offer? Channel & planned offerings including digital workplace
Where does the channel land on digital transformation, orchestration & integration?
What does the channel want? Channel Expectations from Vendors & Distributors
How does the channel sell? Channel sales Strategy
What is channel doing in the cloud? Channel Partner Cloud Trends
What is channel doing in managed services? Channel Partner Managed Services Trends
What data center solutions is the channel selling?