My days of being critical of Salesforce and their SMB strategy are over. With the introduction of Sales Cloud Essentials and Service Cloud Essentials, Salesforce has once again become relevant for SMBs, especially for the very small (1-19 employees) and overall small business (1-99 employees) segments. For an SMB, CRM is not only – or even primarily – a system used to manage pursuit of new accounts. The most common use of CRM is as a means of organizing customer services. Techaisle SMB & midmarket survey shows:
18% of micro businesses (1-9 employees) are using a cloud CRM solution
Cloud CRM usage within small businesses has increased by 31% in the last 1 year
40% of small businesses are planning to use a cloud CRM solution in the next 1 year
15% of micro businesses (1-9 employees) are using a cloud Customer services solution
Cloud Customer Services usage within small businesses has increased by 15% in the last 1 year
49% of small businesses are planning to use a Customer services solution in the next 1 year
73% of very small businesses (1-19 employees) using CRM are also using Customer services
56% of very small businesses (1-19 employees) using Customer services are also using CRM
Sales & Service together for better customer relationship management
Small businesses often struggle with processes around customer relationship management – maintaining contact with past buyers, preparing for renewals or new product upgrades, informing them of service releases, etc. – and a CRM system provides a central means of scheduling and tracking these activities with/for each customer.
The improved visibility resulting from cloud-based sales and marketing automation systems has in turn illuminated the need for a better-integrated customer management and support processes. This insight is prompting increased investment in systems automating customer support tasks.
Techaisle's SMB SaaS adoption study identified cycles of adoption that shows priorities following acquisition of a CRM system. For SMB buyers who already have CRM installed, the cycle positions CRM as one in a sequence of moves designed to address specific pain points: insight for the sales force, followed by insight/automation for customer service, followed by a more efficient invoicing process, followed, eventually, by more strategic investments in ERP/advanced management tools and analytics/advanced business insight.
How does cloud experience enhance service delivery? Figure below from Techaisle study offers one example. 36% of small businesses that adopted CRM as a 'first wave' application – as a response to a pain point within the business – subsequently added a customer service application and extended their platform to include marketing automation to streamline customer-facing operations. Firms that are moving to adopt CRM as part of a 'second wave', integrated platform are more likely to also deploy customer service and marketing automation within the new environment. Nearly 60% of the second wave adopters will deploy a customer service solution. These small business cloud users will be able to use automation to drive better business results.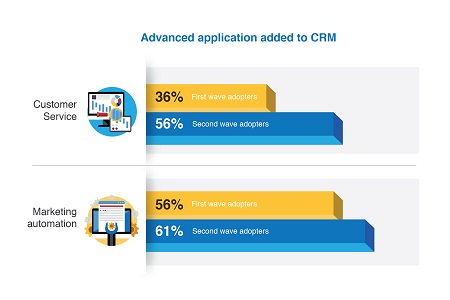 And this is the market segment – small businesses using Sales and Service solution - that Salesforce is targeting with its Sales Cloud Essentials and Service Cloud Essentials. It is very clear from the Techaisle SMB data that the entry point could be either Sales or Service, but there is merit in rapid convergence and integration of the two. Salesforce Essentials offers both, at one price.
Sales Cloud and Service Cloud Essentials together on one platform
In 1999, when Marc Benioff and Parker Harris and the two other cofounders of Salesforce were working in an apartment in San Francisco, they were guided by the principle of, "How do we make Enterprise software as easy to use as Amazon.com?", they had the small business customer in mind. Since then Salesforce has learned a lot from the acquisitions of SalesforceIQ and Desk.com as to what it takes to address and meet the needs of SMB customers. And a key learning has been that for small business users, simplicity is key. SMBs not only want something that is simple to try and buy, but it also needs to be super simple to set up. In fact, they want to be able to setup instantly and start using the application quickly.
Salesforce Essentials has a robust set of functionalities (and a great roadmap of features):
Essentials is built on Lightning which has a modern user interface, is not only intuitive, but also offers drag-and-drop customizability. By improving the user interface and making the solution customizable, it helps SMBs ease their manual spreadsheet processes into CRM.
Salesforce has also incorporated Einstein artificial intelligence directly into Essentials with Einstein Activity Capture, thereby reducing days of manual or duplicate entries, by providing an automated framework to bring customer data like meeting invites, sales related notes and emails in the CRM.
Salesforce has curated a collection of small business applications in the AppExchange. Applications such as Slack, Dropbox, HelloSign, MailChimp, GetFeedback and other solutions that can easily be integrated with Essentials. SMBs do not have to wade through products that may be outside of their complexities' threshold. The applications on AppExchange could be purchased and integrated with Salesforce easily thereby expanding their Salesforce footprint at their own pace.
Once a decision to use cloud CRM is made, SMBs want to get off of their Excel spreadsheets, off of their shared inboxes, and use an application that is easy to use and intuitive. Powered by Trailhead, Salesforce Essentials has built-in guided on-boarding. Trailhead has a very simple set-up assistance to help users import contacts in the CRM. Additionally, it helps share knowledge and best practices across sales teams.
The mobile app offers flexibility and enable users to view business leads (both hot and warm) and helps them access real-time business view
Similar to "Mail Merge" feature in MS office, Salesforce Essentials has a "Mass Email" feature for contacting prospective customers.
Service Cloud Essentials is designed to prevent small businesses from "letting customers fall through the cracks". It automates many different repetitive responses for better customer service – for example, "how do I reset my password?" - merging customer cases from phone, Twitter, Facebook, email, web forum into a single agent console – built on Lightning. The agent can see the list of cases, use a set of widgets and macros to respond. The tab format in Service Cloud enables customer service agents to have multiple cases open at a time without ever having to leave one screen. It also eliminates the need to open multiple applications to help one customer. For sophisticated small businesses, which have separate social, and email agents, Service Cloud Essentials offers omni-channel routing to push cases based on availability and role.
As a result of the availability of Salesforce Essentials, the new purpose-built solution for SMBs, SalesforceIQ and Desk.com product lines are being retired and current customers will have two years to move to Salesforce's platform-based product. Salesforce will be working with its customers to ensure that they are able to move from their current solutions to comparable Sales Cloud or Service Cloud by supporting their efforts.
Techaisle Take
Addressing customer acquisition and customer retention
In a Techaisle SMB study, SMB purchase decision makers were asked "Which one of the following is most important - increasing your customer base, improving customer satisfaction, deriving better customer insights or delivering to customer needs? Clearly, these are all essential objectives; Techaisle's intent was to understand which are most important in shaping current IT priorities. The research found that 39% of SMBs are most focused on improving customer satisfaction. The impact of increasing the customer base and improving customer satisfaction is manifest across many different SMB business objectives – attracting and retaining new customers cited by 39% of SMB firms. It is the 2nd top business issue for 2018. Increasing business growth, keeping pace with competition, and focusing on new markets are all C-level issues that rely on market reach and effective customer management. For example, executive focus on growth leads directly to demand for improvements in sales and marketing – and in today's market, these improvements are generally delivered in the form of CRM systems that improve sales process efficiency and visibility, and social marketing systems that capitalize on connectedness within an economy that increasingly relies on person-to-person, cloud-enabled communications rather than broadcast and print media for information. Salesforce Essentials addresses all three customer and sales objectives.
Addressing customer responsiveness and insights
The biggest issue for SMBs is lack of resources internally. This means that there is a lack of talent, lack of number of people, lack of money when compared with their larger peers. Salesforce is offering comprehensive and flexible solutions which automate the key functionalities that small business could deliver on their own. The solutions deliver efficiencies in terms of automating essential tasks that small business have to deal with given their resource constraints - lead generation, automation, customer service. Salesforce has always maintained very good standards for enterprise market; and now with Sales and Service Cloud Essentials, Salesforce is applying these learnings and efficiencies for sales and service agents' productivity improvements for the small businesses. It is safe to assume that Salesforce is committed in continuing to invest in the artificial intelligence (AI) through their 'Einstein' set of solutions, potentially creating huge value-add for small businesses.
Addressing lead generation & nurturing
Salesforce Essentials provides a path to small businesses in generating leads, customer acquisition and retention. Salesforce Essentials has a strong ability to convert warm leads into hot ones and hot ones into final sales.
One of the oft overlooked components of Salesforce Essentials is its 'contact management' which keeps track of leads, the lead representative, future contact dates, minutes of discussion during last time and what are the next action items planned for the respective sales professionals. Winning the deals is easier using Sales Cloud and retaining the customers is streamlined using Service Cloud. Sales Cloud Essentials provides a detailed overview of prospective customer and their activities via social media platforms like Facebook, Twitter or LinkedIn.
There is automatic tracking of each email and meeting invites of the customer and brings data directly to the CRM. Selling becomes easier and streamlined.
Addressing productivity of sales staff
Small businesses have told Techaisle that sales teams have become more productive with the Lightning Experience. For example, Lightning components - attributes, value providers, global value providers and nested components - enable the end users to get complete visibility of their customers. The 'Lightning Sales Console' provides:
Marketing campaign success
Meeting details with potential leads and other related information
Sales lead status (whether the lead is hot or warm or cold) 'on the go'
Deal size and follow-up tasks for the deal
Prompt update of emails and meetings
Trailhead and badges deliver a robust self-serve model –a gamified educational interactive tour and learning experience. Salesforce Essentials also includes functionality to ask questions, get access to best practices and knowledge sharing platform via Trailblazer Community. This helps in delivering support and learning required by SMBs at their own pace and comfort-level.
Salesforce mobile app has a great potential as many of the mobile workforce especially the sales and business development staff are able to track leads and pipeline with a real-time access to their sales opportunities.
Final Techaisle Take
Why do SMBs adopt cloud business applications? There are many different answers to this question, but data drawn from Techaisle surveys show that the adoption is driven by the need to addressing specific 'pain point' within their operations. And customer acquisition and retention are two important, universal and pervasive pain points. And if these two pain points can be addressed by a set of solutions that are built on one single platform, it propels the business forward towards business agility. Small businesses in the market for sales and customer services solutions should try Sales Cloud Essentials and Service Cloud Essentials, together they have some key attributes that make the offering compelling attractive:
Trailhead – interactive & motivating process to learn & use efficiently
Einstein – built-in Artificial Intelligence delivering improved sales productivity & insights
Lightning – improving user experience
AppExchange – an application marketplace automating & integrating adjacent business
In the cloud, SMBs meet requirements by connecting applications, that handle a specific requirement associated with their business processes. SMBs that integrate sales and customer service applications can quickly adjust to customer needs – for example, to address customer questions that arise when a new product is introduced. SMBs that lack automation and need to develop each new connection manually will be slow to respond to opportunities or requirements. Salesforce Essentials is built on one platform. SMBs can grow on the platform and move seamlessly from one edition to the next as their business needs change and evolve with all of their data in one place.
Salesforce Essentials is a platform to help SMBs grow and innovate faster.