In the report "The SMB Channel and the Cloud", Techaisle uses findings from in-depth surveys with US-based channel firms deriving at least 50% of revenue from sales to SMBs to illuminate conditions within the US SMB cloud channel, and to develop perspectives that suppliers (and the channel itself) can use to construct successful cloud channel strategies.
From 2013 to 2015, the percentage of SMB-focused channel partners that have become very successful in selling to SMBs has increased from 40% in 2013 to 63% in 2015. On the flip side, the percent of partners who are unsuccessful has increased by 60%. MSPs are the most successful partner type in cloud, while consultants are struggling to gain traction in the cloud market.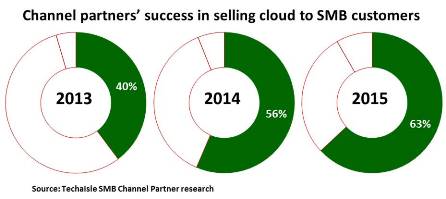 Highlights from the research include:
SMB channel businesses that are successful or very successful in cloud are focused on delivering hybrid IT solutions that connect multiple delivery platforms into a single cohesive environment. These businesses are expanding customer presence by delivering other advanced solutions, such as IoT and analytics.
Very successful SMB cloud partners demonstrate high levels of focus on application and data integration, and are more likely than not to be active in SaaS, IaaS, PaaS and UCaaS. Unsuccessful cloud partners have more limited cloud portfolios, and are often focusing instead on mobility.
The survey identified a set of issues that is highly correlated with very successful cloud channel businesses, another set that can be used to identify partners that are likely to be unsuccessful in cloud, and a third which lacks predictive value. Survey data indicates that four measures distinguish very successful cloud partners: 1/ emphasis on selling self-branded solutions, 2/ preference for best-of-breed rather than single vendor solutions, 3/ length of sales cycle, and 4/ the partner's propensity to partner with other channel firms.
Factors common to SMB channel partners that are not successful in cloud include budget/staff allocations (overemphasis on administrative functions), cloud solution sources (other channel partners rather than distributors), overambitious portfolio expansion plans, and cloud expansion plans driven by vendor expectations rather than customer demand or broader industry trends.
There are a number of factors that are important to cloud success, but where simple measurements provide no real predictive value. These include proportion of revenue derived from recurring revenue sources, proportion of revenue derived from services or services-led contracts, allocation of time spent with customers, sales and lead generation tactics, and the nature of top 2016 business issues and challenges.
Three items from the survey are highlighted as sources of advice to vendors:

Conflict is a potential issue, particularly with very successful cloud partners; vendor/channel conflict needs to be actively managed.
Channel program offerings that expand partner opportunity are well aligned with successful cloud partners; those focused on issues like rebates do not target this group.
The business support needs of the 'very successful' cloud partner group can be used as a vendor 'to-do' list: these partners expect vendors to supply 24x7 support, notification of upgrades/changes/downtime and a strong SLA, and prefer to work with vendors who also offer a broad catalog of cloud offerings and support for data migration.
In 2015, Techaisle reported that "the IT channel has reached an inflection point," forced into specialization in 1-2 focus areas by increasing complexity associated with cloud, managed services, mobility and converged infrastructure/virtualization. Today, this trend is accelerating. Changes in the IT market are forcing channel members to move beyond traditional key success factors, and to embrace objectives that are better aligned with current SMB market demands.
To a large extent, this change has been prompted by the use of cloud to support and/or expand IT service delivery. Virtually all US SMBs use cloud today – meaning that channel members need to come to grips with market conditions that are defined by a hybrid IT environment.
Pervasive use of cloud has an impact on all SMB channel organizations, including those focusing on managed services, mobility and/or converged infrastructure/virtualization. Its effect is felt most directly within the part of the channel that is actively selling cloud – or which has been unable to define a successful approach to cloud sales.
More details about the report can be found here or subscribe to our SMB Channel Trends subscription service.