India is witnessing unprecedented growth driven by favorable demographics, a young working population, rising income levels, urbanization and growing brand orientation. India's retail industry has emerged as one of the fastest growing industry and is projected to grow almost to US$1 trillion by 2020 from the present market size of US$600 billion in 2015 driven by income growth, urbanization and attitudinal shifts.
However, it must be said that Indian retail is still dominated by unorganized sector. Organized retail penetration is just 8%. The biggest challenge facing the Indian retail sector is the lack of efficient supply chain. Within retail, India's IT hardware market includes many product segments such as desktops, laptops, phablets, tablets, printers, and other peripherals.
Techaisle team has been tracking the channel market and specifically sales out of various IT products in India for a decade. At last count, Techaisle India channel census data shows that there are over 30,000 channel partners in India. Supporting this vast channel network are eight national distributors and 159 regional distributors. Techaisle research shows us that there are typically four types of retailers.
With a country so large with varying maturity of IT adoption and number of distributors and retailers/resellers it is but natural to see a very complex PC distribution flow. Techaisle team tracks the percent units that flow through various intermediate channels from the OEM to the end-customer.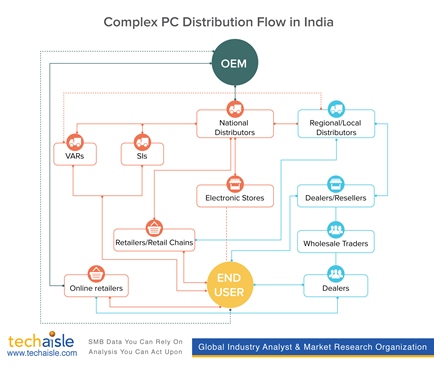 It is common knowledge that India's e-commerce market India is still in nascent phase, yet it is growing rapidly but IT hardware sales through e-commerce websites or through the company's own website are still in the single digit-range as percentage of total sales because most of laptops, desktops, and tablets sales are still sold through bricks and mortar shops. In order to expand in India, large technology companies have been increasing their focus on smaller towns and non-tier 1 cities. For example, by end of 2015, Dell plans to more than double the number of its stores (named Dell Exclusive) in India to 825. In 2014, Dell had already doubled its number of stores to 400 from 2013.
Organized retail started more than a decade ago and significant growth has been achieved. However, most of the retailers have struggled to achieve a desired level of profitability. Leading retailers are now putting profitability at the top of their agenda. Croma was the first multi-brand store to sell consumer electronics among other retail products. Today, major retail players include Reliance Retail (Reliance Digital – 151 stores), Pantaloon Retail Ltd (eZone – 92 stores and Electronic Bazaars), Videocon (Next Retail Ltd – 144 stores), Tata Sons (Croma – 101 stores), Sumaria Appliances and Vijay Sales (54 stores).
To learn and read more download our free White Paper.
Table of Contents
Indian IT retail landscape
Major IT retail hubs in India
Distributor and Retailer count
Increasing focus on OEM branded stores
Leveraging distribution and sales networks through strategic partnerships
Types of Retailers
Complex PC Distribution Flow
Pain points of smaller retailers
Explosion in E-commerce and M-commerce retail channel
Overcoming inefficient supply chain management
Overcoming logistics and warehousing challenges of Indian e-commerce
Organized retail sector competing with online retail
Brick-and-mortar retailers warming to E-commerce