The aviation phrase "all thrust, no vector" is sometimes used to describe individuals or initiatives that exhibit a great deal of energy (such as the power required for a plane to achieve liftoff) but no clear sense of direction. It is an apt description of the current state of the IT channel.
The IT channel is facing several challenges, including the need to deliver more business value, the shift to as-a-Service contracts, and the need for new skills.
There is no clear consensus on the best way to address these challenges.
Channel partners are struggling to find a balance between investing in new initiatives and maintaining their existing operations.
Consider the critical business issues identified by survey respondents in Techaisle's survey as a starting point. Ten issues (from a list of 19 options) were identified as important by more than one-quarter of respondents, but not one was identified as important by more than half. Respondents are trying to reduce volatility in their businesses by managing uncertainty, reducing churn, and focusing on customer retention – and/or they are attempting to drive growth by improving speed to market, focusing on new markets, and increasing the number of offerings sold to each customer – and/or they are looking to shore up core operations through improving sales and marketing effectiveness, attracting and retaining employees, and increasing engagement with vendor partners.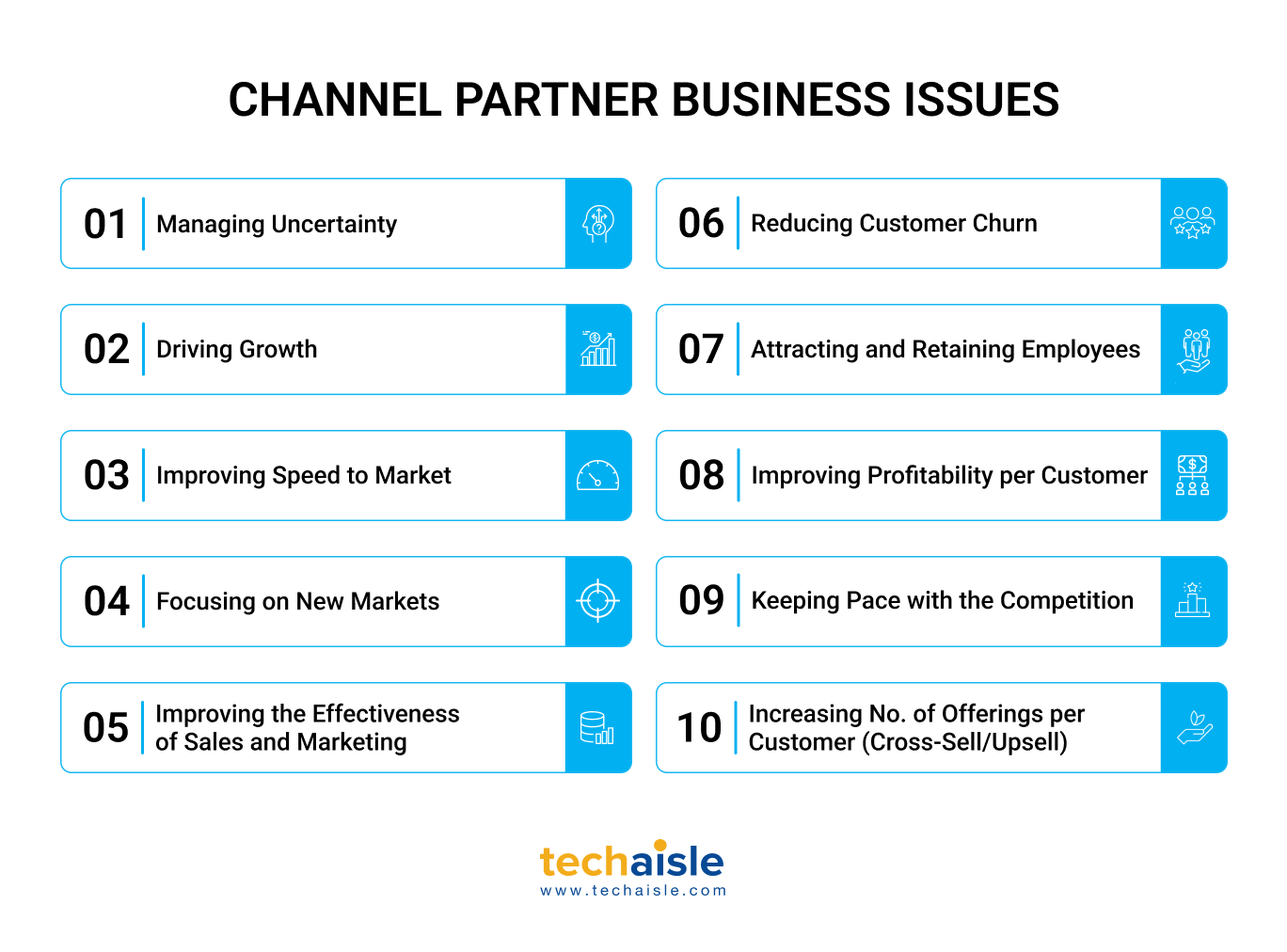 From addressing problems to delivering success
The diverse concerns reflected in the business issues data stem from a fundamental change in how the IT channel engages with customers. Like the IT function itself, the channel has typically served clients as a problem-solving option, able to plug a defined technology gap with a functioning system. However, as "business infrastructure" became indistinguishable from "digital infrastructure," the definition of what IT needs to deliver has morphed. IT is now expected to support the business in ways that deliver tangible business (e.g., financial) benefits. The buyer community increasingly insists on outcome-focused project definitions, and procurement departments have started using shared-risk approaches, rather than traditional RFP-style responses to static requirements, to optimize the impact and value of systems that deliver new business functionality.
Many channel firms have responded to this results-focused exposure by delivering via as-a-Service (aaS) contracts, taking broad responsibility for specific technologies while establishing clear lines demarcating out-of-scope functions. Client requirements, however, often extend beyond a specific service; in these cases, channel firms (using internal resources or via partnerships) look to establish hybrid delivery models combining defined aaS capabilities with higher-variance integration activities. These aaS/hybrid approaches to outcome-focused, shared-risk engagements unlock significant growth potential. However, they strain the channel's already-stretched resources: they require new skills in negotiation, solution scoping, contracting, delivery, success measurement, and partner management.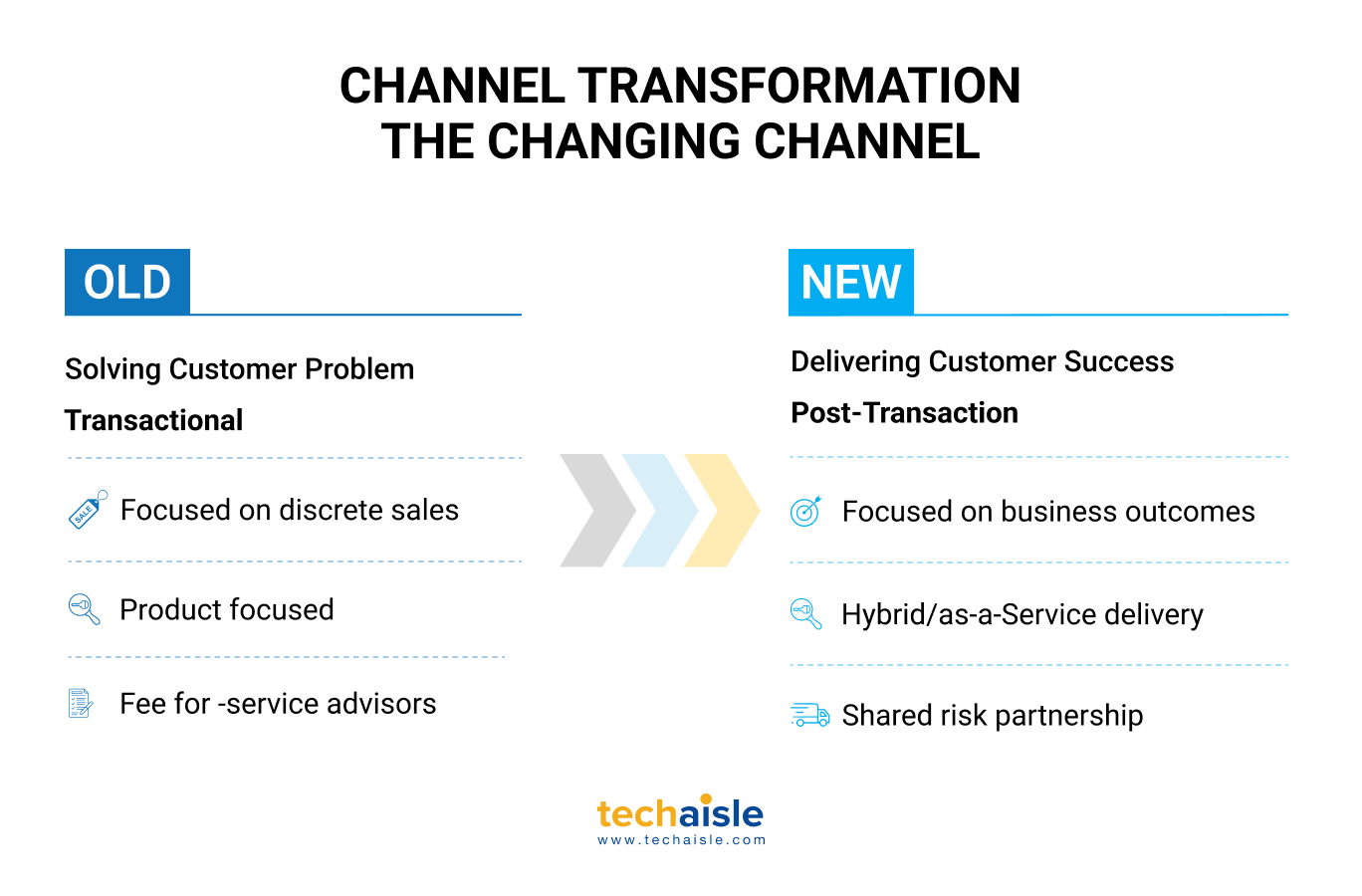 Evidence of the strain that this transition has wrought within the channel is seen in the evolution of the sales function within channel organizations. More than 60% of channel members report that increasing customer knowledge has resulted in a need for channel sales staff to be more innovative in approaching and developing opportunities. Nearly half report that they are "doing a lot more line-of-business selling" than just five years ago, and more than 40% state that aaS has "significantly changed" the attributes they look for in sales/business development professionals.
Recent work by Techaisle shows that the need for updated understandings of channel management imperatives has expanded beyond the tactical questions of sales, management metrics, or marketing activities. This work has identified twelve fundamental areas where conventional wisdom has not kept pace with the business needs of the channel. Policies based on conventional wisdom in each area will lead channel organizations away from the practices needed to compete successfully in the post-transactional cloud market.
No clear path forward
Follow-up questions on the survey drilled down into contract types and asked channel partner executives how their firms would allocate resources in response to this changing landscape. The results indicate that there needs to be a clear consensus within the channel regarding the best path forward.
Data on selling propositions paints a very clear picture of a channel in the midst of evolution. The trend towards increased emphasis on services has taken root, with services revenue averaging 57% in firms surveyed versus 43% for margin-poor product resale. However, the contracts used to obtain this revenue offer no such clarity: the proportion of channel contracts described as product-inclusive is an even 50% of all channel engagements, and "product-led" contracts account for an average of 48% of channel deals. Customer agreements that include recurring revenue terms represent most of the channel revenue today, but point-in-time transactions still represent 44% of the total.
Data on resource allocation is equally equivocal. Responding to a question about focus over the next year, each of the top six options – lead generation, pre- or post-sales support, building architecture or deployment skills, investing in training and certification – were cited by 40%-50% of the group. Most firms can't afford to invest in all these options simultaneously, but equally clearly, there is no common understanding of which two or three are most likely to yield the best results.
Final Techaisle Take
The IT channel is at a crossroads. It can either continue to focus on problem-solving or embrace the opportunity to deliver business success.
The channel needs to invest in new skills and capabilities to thrive in the future.
The future of the IT channel is bright, but one thing is for sure: businesses that are all thrust, no vector will not succeed.