Communication, collaboration, and human connections are a central component to virtually all business activities. In today's business environment, we interact at all points in the business cycle: in cross-functional planning and management, within a single co-created document or spreadsheet, in the stages and connection points defined by our business processes. From a supplier's perspective, these are both encouraging and daunting times. SMB and midmarket customers are eager to acquire collaboration capabilities. Still, at the same time, they are far more demanding in terms of the scope of those capabilities, and their expectation, that any tool can seamlessly connect to any other.
Collaboration and video-conferencing are increasingly crucial to SMB business success. They are among the top five technology priorities to satisfy their desire to make employees more productive in a hybrid work environment. Techaisle's latest global survey of N=2450 SMBs shows that 73% are increasing investments in collaboration solutions. As SMBs tighten budgets, conferencing solutions take center stage. While these solutions have been around for a long time, Techaisle believes that broad adoption among SMBs is upon us, as evidenced by the priority assigned to such technologies versus the pre-pandemic penetration level. There are many solutions that SMBs can take advantage of, and no technology other than video conferencing has consistently shown the promise of high adoption rates in recent times.
Poly, with its audio and video intelligent software, is well-positioned to drive platform-independent, cloud-managed, unified communication and collaboration adoption within the SMB segment.
Why Poly for SMBs and Midmarket firms
Poly is a company that empowers human connections for remote work and the impending return to the office. Formed in 2019 with Polycom's acquisition by Plantronics, Poly is on a mission to deliver a comprehensive set of endpoints for the unified communications and collaboration market through differentiating software. Two strong players, both leaders in their respective audio and video technology areas – came together to pave the way in the era of digital transformation, taking human communication, be it collaboration at home or office, to the next level. It is, indeed, succeeding.
Polycom devices, such as Trio or Soundstation family, have been the default choice for audio conferencing. Most SMBs that Techaisle has surveyed refer to Poly as Polycom. Trio with Poly logo is not on office/home desks yet, but it will be. After all, it has only been a year and a half since the new logo and company name announcement. Within the last 12-18 months, the design language has evolved at Poly, resulting in a refresh of its entire product and services portfolio.
While it is true that the average SMB user may not know the Poly brand, it has over 400K customers worldwide. It is relatively widely known as the conferencing leader in the midmarket and enterprise IT community. Many small businesses use consumer devices, conferencing hardware from PC/Smartphone OEMs, tools from meeting service providers, mainly due to aggressive marketing and pricing models. We feel there is nothing to prevent newly formed Poly from becoming a stronger player in this market.
Poly's portfolio is so comprehensive that it addresses the needs of the enterprise, SMB, and home-office workers covering different workstyles – conference rooms, desk phones, large rooms, huddle rooms, video conferencing devices, and on-the-go headsets. 95% of Poly's employees work remotely / from home and use Poly products.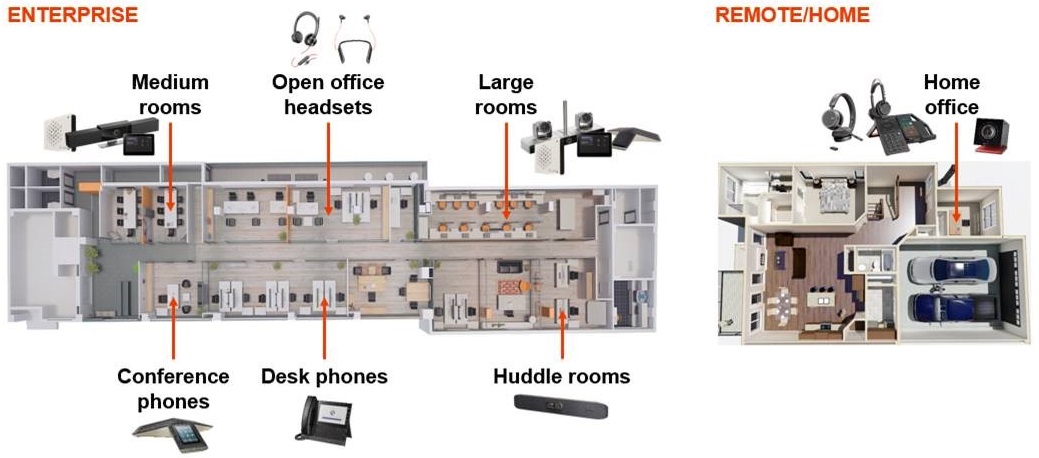 All its video and audio-conferencing devices integrate with a variety of platforms – GoToMeeting, Bluejeans (Verizon), Genesys, GCP (Google Meets), AWS (Chime), Broadsoft, 8x8, RingCentral, and Cisco WebEx. It has the most extensive array of solutions with Zoom and Microsoft Teams. Naturally, Poly provides the SMB and midmarket customers a freedom of choice, which is extremely useful and essential.
Zoom and Teams Certifications
Poly is the only firm with native Zoom Rooms certification of its video conferencing solutions and native Studio X certification for Microsoft Teams. Poly Studio X family efficiently uses Zoom certification to deliver secure and exceptional audio and video experience, including Acoustic fence technologies, to block external noises. Similarly, Poly Studio X30 and X50 integrate natively with Teams to deliver out-of-box features such as Meeting AI, Acoustic Fence, NoiseBlockAI, Proximity Join, and Poly Lens.
Zoom is the new verb handily replacing Skype. It is also a modern vernacular. To make a copy of a document is "to Xerox." To have a video-conference is "to Zoom." Poly has been working very closely with Zoom to design an end-to-end certified portfolio. Poly is also the only provider to offer audio and video devices in Zoom's HaaS (Hardware-as-a-Service) program.
Impressive audio and video intelligence software
Poly's capabilities lie in its AI-driven software. While NoiseBlockAI's predominant use is within desktop devices, I have been incredibly impressed with Acoustic Fence and Poly Lens. Using machine learning audio algorithms, NoiseBlockAI, together with Acoustic Fence and MeetingAI, provides a distraction and noise-free collaboration experience. MeetingAI keeps the visual focus on the person speaking, which improves the efficacy, efficiency, and effectiveness of collaboration, contributing to improved productivity.
Poly Sync – a new family of Bluetooth speaker products
On October 14th, 2020, Poly announced Poly Sync Family, speakerphones designed for different workspaces and conference rooms from personal use to huddle rooms and conference rooms. Poly's pedigree on audio quality is apparent with no compromises at very affordable price points from US$169 for Poly Sync 20 to US$599 for the top of the line Poly Sync 60. Each product in the family has remarkable audio, sports a sleek design (no hockey puck), and audio-intelligence built-in (microphone array, echo control, talker-tracking visual) and auto-Bluetooth unpairing. Its intelligent microphones can easily detect voices throughout the room to enable crisp audio quality for both work and entertainment. For seamless voice integration, Poly Sync speakerphones connects to Siri or Google voice assistant.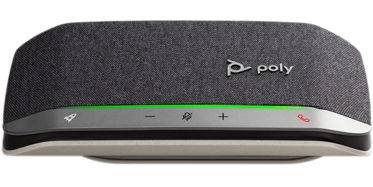 Poly services improve SMB and Midmarket IT efficiency
Poly Lens is one of the components of Poly cloud services. It provides the IT staff with the ability to deploy securely, geo-locate, manage, and gain utilizations insights for video, voice, and headset devices. Managed services is vital within the SMB IT portfolio because its key attributes tie directly to business and IT challenges. Poly's managed services offering enables both internal and external IT to remotely manage and troubleshoot devices, which are imperative in the new normal. A recent Techaisle study found that maintenance and support consume 77% of SMB IT staff time, leaving only 23% of the time on transformation initiatives. Nearly half of maintenance and support cycles are for PCs. Poly Lens aims to improve IT efficiency and employee productivity.
Final Techaisle Take
As per a Techaisle survey, 58% of employees within SMBs and midmarket firms with access to video-conferencing collaboration solutions use them many times a week, even many times a day. Meetings consume a great deal of an employee's productive time that optimizing their impact is essential. The survey found that respondents in SMBs and midmarket firms attend an average of 44.6 meetings per month. Findings from the survey demonstrate efficient audio and video conferencing helps businesses drive better results from meetings. Data also shows that collaboration within the organization and across partners and customers is necessary to drive digital transformation to achieve cost efficiencies, empower organizational productivity, improve customer intimacy, drive business growth, establish operational excellence, and initiate innovation. For SMBs prioritizing remote worker empowerment, enabling enterprise-wide opportunities for enhancing collaboration ROI, preparing for hybrid workplaces, Poly is the right conferencing endpoint device partner.