Inexorably, the market is shifting from one defined by discrete purchase-and-deploy deals aligned with refresh cycles to one where businesses take a 'hybrid IT' approach that blends a limited number of on-premise assets with a growing range of on-demand services. Recent work by Techaisle shows that the need for updated understandings of channel management imperatives has expanded beyond the tactical questions of sales or management metrics or marketing activities. This work has identified twelve fundamental areas where conventional wisdom has not kept pace with the business needs of the channel. In each area, policies based on conventional wisdom will lead channel organizations away from the practices needed to compete successfully in the post-transactional cloud market.
The channel transformation accelerator enablers, as laid out in the point-of-view white paper document (free), Channel Imperatives for 2020: The Changing Channel for a Post-transactional IT Market will be gut-wrenching but necessary. [Click on the image below to download the white paper or click on the link]. Within the white paper, Techaisle has developed the "Conventional Wisdom vs. Emerging Imperatives" table to illustrate ways that channel organizations must alter basic attitudes towards the business of the channel in order to be successful in the current and future IT market.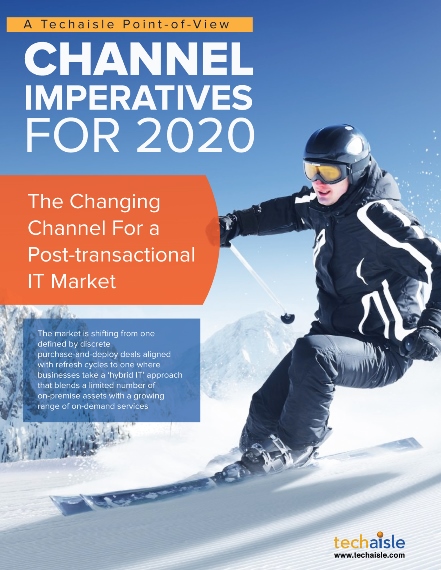 Past guidance, including the Techaisle white paper, Cloud Computing Challenges the Channel, identified evolutionary steps that the channel should pursue. Today, though, it is clear that gradual change is not adequate response to cloud-driven market trends. To stay viable, channel organizations need to transform core functions throughout their business:
Management has to manage (and measure) differently
Sales has to sell (and compensate) differently
Marketing has to change and expand its purview
Technical staff has to develop new and different skills
As we enter the second half of this decade, it is clear that the IT industry as a whole has been transformed by cloud:
by the way it alters IT service delivery options,
by the way it impacts the economics & resource requirements associated with that delivery, and
by the applications and business opportunities that cloud unlocks for user organizations of all sizes and in all industries.
We are increasingly immersed in a post-transactional market, where discrete sales of individual products or integrated systems are replaced by agreements to provide IT capacity and business functionality "as-a-Service."
No segment of the IT market is immune to this trend. Sales of on-premise hardware and software are declining and will continue to decline; at the same time, leading web service providers, including Microsoft (Azure), Amazon Web Services, Facebook, Google and Alibaba, are thought to be building 40 percent – 50 percent of all x86 servers for internal use, and then providing access to these servers on a pay-as-you-go basis, and software developers are creating systems on these platforms to automate sales, marketing, finance, HR and other business functions.
Many channel businesses will be 'consolidated out', absorbed by firms looking to consolidate their hold on the diminishing product-oriented transactional business, or by firms who want to apply post-transactional methods to established customer rosters. It's important to note, though, that the future is hybrid IT – a mix of traditional and cloud-based infrastructure and capabilities. Traditional channel firms may need to work to absorb the mantras associated with the new market reality, but they have existing relationships and knowledge that are also important to future success. Channel executives who can integrate existing attributes with emerging imperatives – and partner with customers who also need to span conventional and emerging IT service delivery models – have an opportunity to position their businesses for long-term success in the post-transactional IT market.
Download for free, Techaisle's latest white paper on Channel Imperatives for 2020: The Changing Channel for a Post-transactional IT Market