The core changes in the demands on different areas of the channel business are critical and challenging, but they can be seen as more effect than cause. In all aspects of channel business, long-held business tenets are being replaced by an emerging reality that has been ushered in by the move to cloud and amplified by many other trends – changes in buyers and buyer behavior, as well as management and process changes, and evolutions in service/technology delivery – that are reshaping how technology is acquired and used, and how suppliers need to act to meet buyer requirements.
NEXT channel
Techaisle has identified twelve areas where channel partners must abandon ingrained behaviors and move to new approaches that will enable NEXT (Networked, Engaged, Extended, Transformed) channel businesses.
Partner-to-partner relationships are important to cloud business success
There are seven imperatives that impact all areas of channel business operations, there are two imperatives that relate to internal management/process items, two that impact service/technology delivery, two that affect go-to-market and customer relationship management, and one – the shift from 'turnkey solutions' to 'ecosystem collaborative solutions' – that touches on all three areas. Let us discuss this last imperative.
Solution packaging isn't a 'religious issue', it's a 'customer choice issue' – and customers are clearly choosing to move from turnkey systems to hybrid environments that can be aligned with their evolving needs; this will also require an accelerated frequency of partner-to-partner collaboration (not opportunistically but strategically).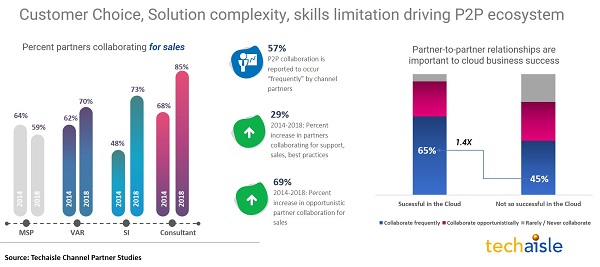 The chart above illustrates an important feature of this migration: it increases both the scope of projects that the channel partner can engage in and the profitability of those engagements. As the chart demonstrates, 65% of channel firms that consider themselves to be "very successful" in selling cloud report that they frequently collaborate with other channel partners; firms that struggle with cloud success are much less likely to proactively work with peer channel firms.
Drilling into the data from 2014 to 2018, we find that the opportunistic collaboration has increased by 69%. There are many sporadic efforts but no single vendor is formalizing and enabling this P2P collaboration.
What is the new Turnkey solution: