Techaisle's global survey of 3,996 SMBs shows that 9% of SMBs have adopted PC-as-a-Service (PCaaS) but another 32% who are aware of PCaaS are planning to adopt such. Acquisition of latest technology, potential to reduce IT support workload, and predictable costs are key reasons for using PCaaS. Awareness of PCaaS increases from a low of 21% (unweighted) among small businesses to a high of 64% within 500-999 employee size segments. Research also indicates that the dominant reasons for adopting PCaaS varies vastly by size of business. For example, the two most important reasons for small businesses to move to a PCaaS model are "move from CAPEX to OPEX to free up capital" and "allow PCs to be refreshed faster." For the larger SMBs, typically upper to midmarket firms in the 500-999 employee size segment range, there are three important reasons to adopt PCaaS – "reduction in IT support and procurement workload," "option to acquire latest technology faster," and "reduction in cost of PC deployment." Interestingly, "predictable costs" is one of the least important reasons for midmarket firms to move to PCaaS as compared to other SMBs.
Survey research also shows cloud SMBs are more likely to adopt PCaaS and refresh PCs than SMBs with an ad hoc cloud approach. Similarly, SMBs with an organization-wide mobility strategy are more open to PCaaS than those with siloed mobility initiatives.
PCaaS or DaaS is a service in which PC hardware, software and lifecycle services are offered on a price per seat per month basis for a fixed term. PCaaS usually includes configuration, deployment, support/maintenance, asset management and end-of-life decommissioning. It provides a predictable monthly pricing for the entire PC lifecycle. The service is an attractive option for the refresh of aging PCs when SMBs do not have sufficient capital for outright PC purchases, choose to use capital elsewhere, or when IT budget is diverted to other more urgent or more strategic projects.
Both Lenovo (WW top PC OEM by unit shipment) and Dell (WW top 3rd PC OEM with 25 quarters of PC unit shipment market share growth) have taken the lead on the PCaaS offering. Lenovo's service, called Device-as-a-Service (DaaS), has been available for SMBs for over a year; whereas Dell's service, named as PCaaS for Business, a purpose-built SMB offering, was announced in August of 2018.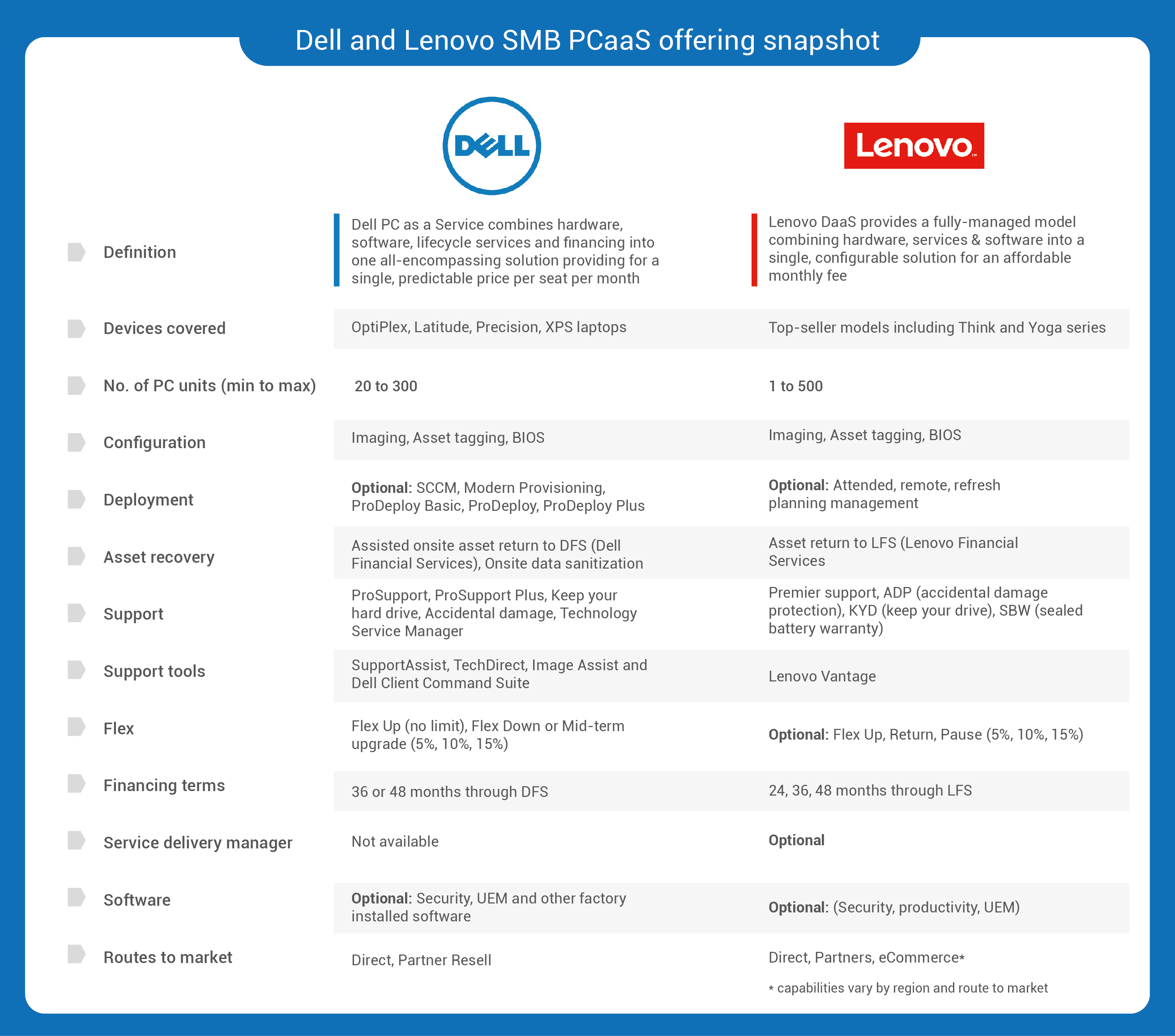 The market for PCaaS is currently at an early stage – but there is a market. The total proportion of PCs provisioned/delivered via PCaaS is still relatively small, but this is not a pure development market – an adoption beachhead has been established. Both Dell and Lenovo are creating differentiating factors.
Dell and Lenovo PCaaS differences
With great market awareness, especially in the Asia/Pacific region and globally within enterprise customers, Lenovo offers DaaS from "the pocket to the data center," that is, from smartphones (Lenovo owns Motorola) to servers, including PCs. One of the key Lenovo differentiators is flex-pause which is specifically suited for SMBs that are subject to seasonal cycles. These SMBs can shut off their PCs, put them on the shelf for a three-month period and not be billed for when the PCs are not in use. Flex Pause is typically offered to larger SMBs who require more complex solutions and not typically available through the SMB pro store or channel. However, Flex down and Flex up is available through the channel. A second and very important differentiation is that SMBs can start with Lenovo DaaS with only one PC as compared to Dell's minimum requirement of 20 PCs.
Another differentiation between Lenovo and Dell is Lenovo's offering for SMBs to purchase DaaS via SMB pro store on Lenovo.com by selecting any of six pre-defined bundles that best suit SMBs' needs. Lenovo's bundles are very different from HP's three - good, better, best - bundles. If an SMB's requirements do not fit specifically into one of the three HP bundles, SMBs end up paying for more than what they would use, or they are forced to choose a "lesser" bundle thereby missing some services they really would like to have. Dell does not have any pre-configured bundles and allows SMBs to select from its full catalog of commercial PCs.
Self-purchase through Lenovo's eCommerce SMB pro store is ideal for SMBs in the PCaaS market for 1 to 100 PC units. For SMBs considering more than 100 units Lenovo Financial Services has established a platform with its larger channel partners that allows SMB customers to purchase directly from the channel. This empowers channel partners to either resell services that Lenovo provides or add their own deployment and recovery services thereby giving the channel an opportunity to layer on their high-margin services and still receive benefits from LFS (which is able to convert the entire solution into a subscription service). Dell provides its channel partners with two options – resell PCaaS or Co-Deliver. In the resell option, partners sell but Dell delivers services that includes deployment, support and asset recovery; where as in the co-delivery option, partners must have a Service Delivery Competency before they can deliver ProDeploy Plus and ProDeploy as part of the PCaaS solution.
Both Dell and Lenovo are taking leadership positions in the PCaaS solution offering for SMBs. Lenovo has a flexible offering with many different routes to purchase but has been relatively quiet in its SMB marketing efforts. Dell has a structured yet adaptive offering with two specific routes to purchase and has begun a purposeful push into the SMB market segment.
PCaaS is quite new and both Dell and Lenovo have focused on the enterprise segment that requires deeply complex and bespoke solutions which has resulted in a relatively slower than forecast adoption by many research firms. All major PC OEMs – Dell, Lenovo and HP have gotten ahead of their skis on a slick slope. True market opportunity lies within the SMB segment, yet it is not the easiest business sector to navigate, with or without skis. "Land and expand" is an overused term in today's IT market, but it is an appropriate description of the PCaaS opportunity. PC OEMs that can establish initial relationships with leading-edge IT mature SMB buyers can both expand within these accounts and benefit from longer-term adoption intent from less IT mature SMBs who will come to see the benefits enjoyed by their peers/competitors.
PCaaS - an answer to PC refresh deficit
With the move towards multiple screens – smartphones and/or tablets in addition to PCs – businesses have a more complex and expensive device portfolio. One effect of the increased number of devices has been that PC refresh cycles have become longer, or have faded away altogether, as SMBs react to demands for acquisition and upgrade of other devices.
The consequence of this 'refresh deficit' is an aging PC population. Techaisle global survey data shows that between 70% to 85% of SMBs, depending upon mature or emerging market country, have 4+ years' old PCs and 32% to 35% of PCs are 4+ years' old. Although between 64% to 85% of SMBs may replace older PCs, only 18% to 24% of older PCs may get replaced. The magnitude of the "older PC problem" is most pronounced in countries such as South Korea, Japan, Australia, UK, Germany, Indonesia and Brazil. Many of these countries, including the US, are ready for increasing PCaaS awareness and adoption. Increased experience and comfort with multiple types of cloud services and ability to off-load PC deployment and support workloads will enable SMBs to be more proactive in seeking PCaaS solutions by capitalizing on their understanding of cost benefits.