A Techaisle survey of nearly 900 midmarket firms in the US found that 42% believe that digital transformation is a key to employee empowerment. In an era where employees are expected to move fluidly across a wide range of tasks – and where staffers and contractors expect to be able to work at any time, from any location, with access to any data source they might require – employee empowerment is a key factor in driving corporate responsiveness, staff recruitment and retention and bottom-line success. No wonder improving workforce productivity is #1 in the list of midmarket business priorities.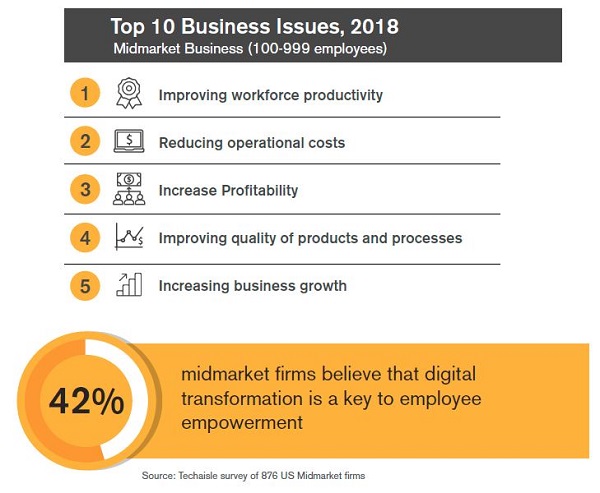 Digital transformation offers a path to translating the promise of core technologies, such as mobility and cloud, into new empowerment and process options, via the creation of a connected workplace where applications and collaboration systems seamlessly connect to the anytime/anywhere/anyplace/any data demands of the modern workforce. And this digital transformation evolution leads in turn to realization of the other top issues shown above: reduced cost, increased profitability and growth, and better processes and customer outcomes.
The constraints
It is important that the channel step up to helping clients to build digital transformation strategies – because midmarket firms are struggling with a wide range of challenges that impede the evolution to an empowered workforce. From a workforce perspective, digital transformation demands change within both IT and the workforce as a whole. The key digital transformation challenges identified by midmarket firms – are lack of skills, a risk-averse culture and lack of adequate technology to support digitization initiatives.

The third of these issues, adequate technology, is often a digital transformation stumbling block for midmarket IT organizations. The digital transformation vision for employee empowerment includes self-service access to needed applications and data; the reality of many IT shops includes an inability to integrate data across different systems and to deliver it securely on an any place/any device/any application basis, and a mobility strategy that falls short of corporate requirements for security and data protection, auditability and disaster recovery.
The second issue, a risk-averse culture, extends beyond IT to executives who have not yet grasped the potential benefits associated with digital transformation – or, in the context of a fast-moving economy, the need for change. In some cases, this may simply reflect a desire to continue with 'business as usual,' while in others, it may stem from an inability to see how their firms can bridge the gap from their current reality to a brighter digital transformation future.
The top issue, lack of skills, is one that needs to be addressed by the channel. It will be years – possibly, decades – before digital transformation skills are so common that every midmarket firm has depth in both IT and in the workforce at large. Until that time, the channel needs to provide leadership to its midmarket clients: it needs to deliver the IT skills and guidance needed to evolve core technology to the point where it supports digital-transformation-ready connected solutions, and it needs to provide the advice that business leaders need, in order to understand and capitalize on the many business benefits that are gained from employee empowerment.
Bridging the gap
Laozi once said that "the journey of a thousand miles begins with one step". With respect, though, he was not correct: a long and complex journey begins with a vision, and a plan, and proceeds to the steps along the path. What does this mean to growth-focused channel members looking to help clients to 'bridge the gap' to employee empowerment?
From a business perspective, 'bridging the gap' means helping executive clients to see the productivity, profitability, agility and innovation potential of an empowered workforce – and perhaps, illustrating as well the possible threat associated with being late to the digital transformation party
From a technology perspective, 'bridging the gap' means delivering a roadmap that shows how current infrastructure can follow a logical path to support for social, self-service and connected, ubiquitous data while enhancing security, backup, audit and DR
From a skills perspective, midmarket firms need access to professionals who can define the path from basic IT potential to real business benefit – and will find that guidance in the channel, from firms that have themselves made the leap into the digital transformation (DX) future.
Employee empowerment begins with a vision – and a plan. Midmarket clients urgently need advisors who can deliver both – and the business benefits that are unlocked by DX-empowered employees.
Senior executives in midmarket organizations care about digital transformation – and as a result, channel members can leverage their understanding of key Digital transformation objectives and roadmaps into long-term, sustainable relationships with senior decision makers.
Download the complete set of white papers here