Recent work by Techaisle shows that the need for channel management imperatives has expanded beyond the tactical questions of sales or management metrics or marketing activities. Techaisle has identified twelve fundamental areas where conventional wisdom has not kept pace with the fast emerging business needs of the channel. Channel policies based on conventional wisdom and past history is leading channel organizations away from the practices needed to compete successfully in the cloud market. Techaisle has developed 12 points for transformation of SMB channels table to illustrate ways that channel organizations must alter basic attitudes towards their business in order to be successful in the current and future IT market. Table below compares old model with new model with imperatives that are losing relevance with those that are emerging.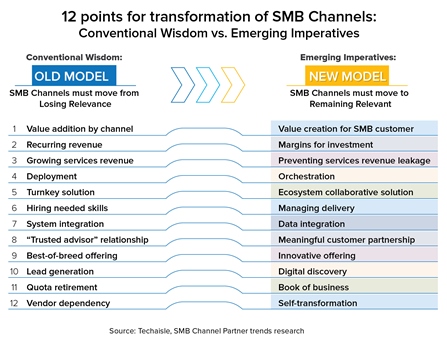 The market has shifted from one defined by discrete purchase-and-deploy deals aligned with refresh cycles to one where businesses take a 'hybrid IT' approach that blends a limited number of on-premise assets with a growing range of on-demand services.
Unfortunately, most channels are still focused on the concept of "solving customer problems" but the larger issue today is to "deliver customer success" that is based on shared risk partnerships.

For decision makers, both within the channel, and within the vendor organizations that work with the channel, there is a strong need to use a combination of business focus transformation initiatives and new KPIs to compete in a highly-unstable market. For vendors looking to build business within the SMB segment – especially with cloud, which is the source of much of the transformation shaking established channel businesses and creating opportunities for new channel entrants – this is an important time to build a constructive, fact-based market strategy that prevents revenue leakage, provides innovative offerings and ultimately delivers customer success.
Each of the above 12 points of cloud channel transformation is discussed in detail in Techaisle's free white paper Channel Imperatives.