Zoom is gearing up for its next phase of innovation and growth, transitioning from a mere meetings provider to a comprehensive communications and collaboration platform. Central to Zoom's strategy is the provision of choice and flexibility, allowing customers to work in ways that suit them best. Its rich ecosystem fosters seamless workflows across Zoom and third-party platforms. In the era of hybrid work, challenges abound in fostering employee engagement, productivity, and enhancing customer experiences. Zoom, with its communication and collaboration software and rapidly evolving cloud contact center solutions, has emerged as a preferred choice for improving both employee and customer experiences. As part of its growth trajectory, Zoom has introduced the Zoom AI Companion, an innovative AI assistant designed to enhance productivity and efficiency at both individual and team levels. This tool provides a convenient platform for connecting and collaborating with team members, external partners, and customers.
During Zoomtopia 2023, Zoom's annual conference, it unveiled several enhancements for the Zoom AI Companion. It also launched Zoom Docs, an AI-powered workspace designed to tackle the challenges of hybrid and remote work with flexible AI-powered workspaces for documentation, wikis, project management, and more. Additionally, updates to its channel partner program were announced.
Zoom AI Companion
AI is at the core of Zoom's offerings. Zoom already utilizes AI to enhance connectivity, video compression, and audio transmission, ensuring superior video quality. Features like anti-fraud measures, AI assistants, and Zoom Rooms with intelligent attendee auto-tracking have been integrated to elevate user experience and engagement. AI-enabled features like virtual backdrops, avatars, gesture detection, and background noise reduction make meetings more engaging and inclusive.
Zoom unveiled AI Companion on September 5, with further feature enhancements and platform expansions disclosed during Zoomtopia on October 3-4. All AI Companion capabilities are available at no extra pricing for paid subscribers. AI Companion aids users in managing note-taking activities during meetings, ensuring uninterrupted participation. It also simplifies summarizing lengthy chat threads, allowing users to concentrate on more strategic tasks. On the creative side, the Zoom Whiteboard, powered by AI companion, assists users in generating ideas for brainstorming sessions.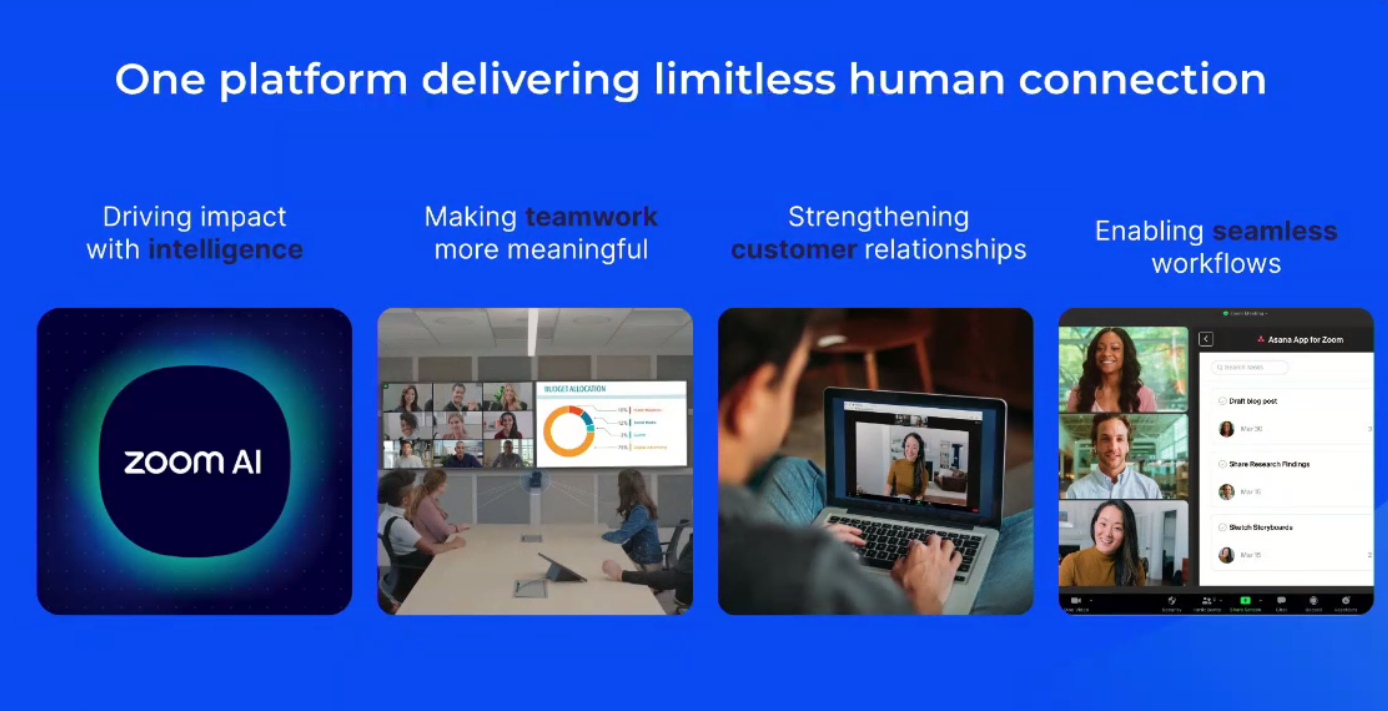 Zoom uses a federated approach to AI, incorporating its own large language models (LLMs) alongside Meta, Anthropic, and OpenAI models. This allows Zoom to tailor its AI solutions to meet users' unique needs and preferences. For the uninitiated, Federated AI is a dynamic approach to developing and deploying machine learning models. A Federated approach uses multiple AI models to optimize results while maintaining cost-effectiveness.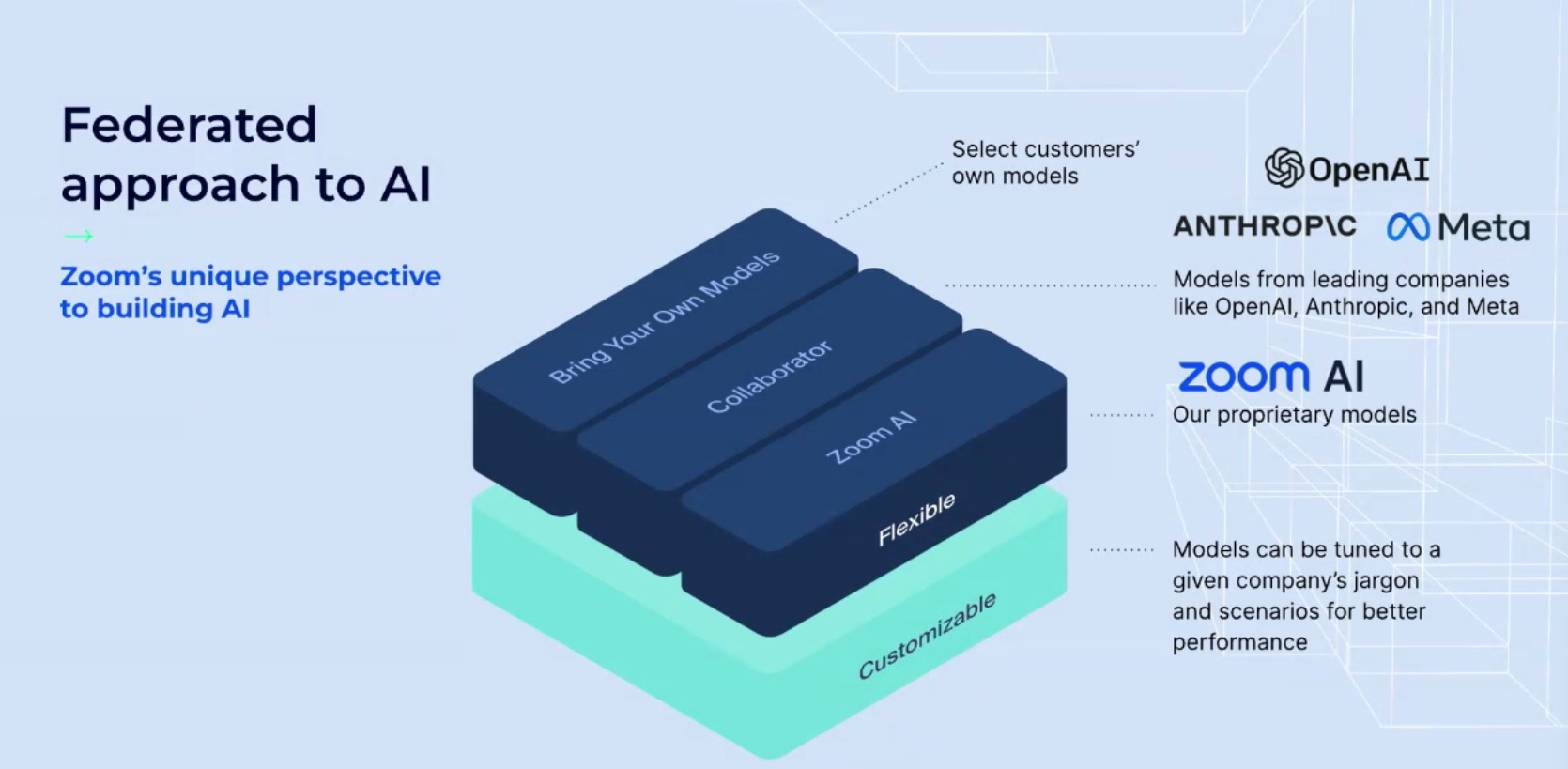 At the time of writing the report, AI Companion supported only English-language meetings, but Zoom is working on adding multi-language support soon. AI features are off by default and can be enabled by administrators and account owners. Meeting hosts can also control the AI features once enabled, and meeting participants can see when AI features are being used. AI companion currently only responds to topics discussed during active meetings.
Zoom's recent controversy over data privacy has led to questions about the use of customer data in the creation of AI generative models. In response to community backlash, Zoom clarified in its terms of service that it does not use customer data for training purposes. Furthermore, Zoom has issued a data privacy guide, accessible to customers under a non-disclosure agreement (NDA), as part of its proactive measures to rebuild any trust that may have been lost during this incident. This is a commendable step for a company facing such issues.
AI-Enhanced Collaboration and Customer Support in Zoom
AI integration extends beyond Team Chat, Meetings, Mail, and Whiteboards. Gen AI is employed for collaboration in Zoom Docs, a customizable document created within the Zoom platform for task delegation, wikis, and work management. It enables users to expedite workflows, organize information and tasks in tables, oversee team projects, and compile data into folders. Users can share documents in Zoom Team Chat, collaboratively edit documents during Zoom Meetings, and access documents from various devices. This eliminates the need to switch between multiple browsers and applications, fostering collaboration, idea exchange, and AI-powered tools within a single workspace.
Zoom Virtual Agent, a conversational AI and chatbot solution, interacts with several customer support channels to deliver swift and personalized client experiences. This reduces call volumes to human agents and significantly enhances operational efficiencies by saving time and manual effort. Furthermore, Virtual Agent Analytics and reporting capabilities provide valuable insights into the chatbot's performance, enabling users to identify areas for improvement and optimize the chatbot accordingly. Zoom Virtual Agent is available as a standalone or add-on to Zoom Contact Center.
Focus on Partner Ecosystem
Zoom currently derives 33% of its revenue through partners, aiming to elevate to 40% by the end of 2024. Agility, innovation, customer base expansion, and a robust partner ecosystem will likely fuel Zoom's growth. According to data from Techaisle, a substantial 87% of SMB and Midmarket customers and 64% of enterprise customers engage with one or more partners for their technology solution purchases. This highlights the crucial role channel partners play in Zoom's growth trajectory. Acknowledging this significant contribution, Zoom introduced the Zoom 2.0 Channel Partner Program at Zoomtopia. Zoom is highly emphasizing ecosystem expansion, as evidenced by the 2500 apps currently available in its marketplace.
The Zoom Up Partner Program, initially launched in 2019, is set for an upgrade in early 2024. This updated version will introduce Revamped Partner Levels and Rewards to incentivize partner investment. The program will feature three new levels – Silver, Gold, and Platinum – designed to align rewards with partner performance. Partners can enter the program with minimal training and ascend to the Gold level by demonstrating a comprehensive understanding of one product. Proficiency across the Zoom portfolio can lead to the Platinum level. Existing partners will be automatically transitioned to the levels that correspond to their current ones. They can then advance to higher levels by meeting the necessary criteria.
Zoom is introducing several new programs to bolster its partner support, including the Partner Customer Success Program, the Partner Support Program, and Workvivo for Referral Partners.
The Partner Customer Success Program empowers partners to manage post-sale customer relationships fully, fostering mutual growth through increased adoption and renewal of Zoom's services. Zoom has successfully halved deal registration time, with 72% deal registration approval, and is expanding post-sales support for partners' customers. This allows partners to add their professional services on top of resells. This strategy aligns with Zoom's path and reflects the data gathered from thousands of Techaisle channel partner surveys.
The Partner Support Program provides four support levels based on investment levels, enabling partners to offer technical support to customers and enhance the customer/partner experience.
Finally, Workvivo, an employee experience platform, is now accessible for referral partners. This platform allows them to refer leads and earn commissions on their sales.
Final Techaisle Take
Zoom has faced various challenges over time as a technology company. As its video conferencing platform has grown in popularity, privacy, and security have become significant customer concerns, eroding their trust. To prevent incidents like the 2020 "Zoombombing," Zoom has taken strong security measures, such as encryption enhancements, password requirements, and meeting waiting rooms. However, these actions have not fully restored users' trust, which will take time to rebuild. However, Zoom's path to future growth is not without obstacles. The company still has hurdles to overcome and competitors to outpace.
Zoom is in a highly competitive and dynamic technology industry where market disruption can occur rapidly due to new entrants. The company is striving to match the offerings of Microsoft Teams, a leading competitor. For instance, Teams provides live translations in over 40 languages, whereas Zoom supports only 12. Teams also boasts accessibility features such as an always-on captioning button, a sign language view for meetings, and an immersive reader button for text-to-speech conversion. While Zoom offers live captioning, it lacks some of these advanced features. Both Zoom and Microsoft Teams offer unique advantages, and the choice between them often hinges on an individual's or organization's specific requirements. Zoom, for instance, is lauded for its intuitive and user-friendly interface that simplifies the process of starting, joining, and scheduling meetings. This ease of use makes it a preferred choice for those who prioritize simplicity. Furthermore, Zoom is recognized for its exceptional video and audio quality, maintaining performance even in low-bandwidth situations.
Zoom's current phase of growth is marked by significant developments such as the launch of Zoom Docs and the expansion of its partner ecosystem via the Zoom 2.0 Channel Partner Program, along with the earlier introduction of the Zoom AI Companion. By harnessing AI, Zoom has created robust tools that enhance meeting interactivity, simplify note-taking, and streamline document creation. However, it faces challenges such as escalating competition that amplifies customer choice, privacy issues, and the need to stay relevant in a rapidly changing industry. Zoom's future growth hinges on its innovative technologies, adaptability, commitment to customer feedback, and robust partnerships.