Techaisle's most recent survey of 1600 SMBs & Midmarket firms (defined as 1 employee to 1000 employees), found that only 18% do not have any form of digital transformation initiative. Which means that 82% of SMBs are already on their digital transformation journey. And interestingly, 42% are taking a holistic view of digital transformation. What it means is that these 42% believe the Internet and digital technologies impact every aspect of the business and must become a core part of organizational strategy. What is more encouraging is that SMBs believe that in the next 2 years, 32% of their business activities would be digitized and increase of 30% from 2 years ago. Globally SMBs are expected to spend US$250 billion on digital transformation in 2018.
Techaisle's extensive research also identified that successful implementation requires a journey through digitization and digitalization, from substitution to augmentation to modification and redefinition, spanning all of the functions in an organization and all of the technology used to support its activities. Based on both quantitative survey and depth-discussions with SMB and midmarket businesses on the transformation journey Techaisle has developed the twin ladder view of digital transformation. Figure below presents a single-image depiction of the 'twin ladders' of digital transformation. The bottom set of steps is labelled "the technology ladder," and stretches from the deployment of modern, flexible infrastructure to advanced IT-enabled capabilities. The technology ladder begins with the building blocks needed to establish infrastructure that is capable of supporting digital transformation. It includes mobility, virtualization, hyperconverged infrastructure & converged infrastructure and other technologies essential to provisioning advanced IT services. Businesses need to deploy and make use of the building blocks and platform technologies before they can launch initiatives that are truly transformative for their businesses and customers.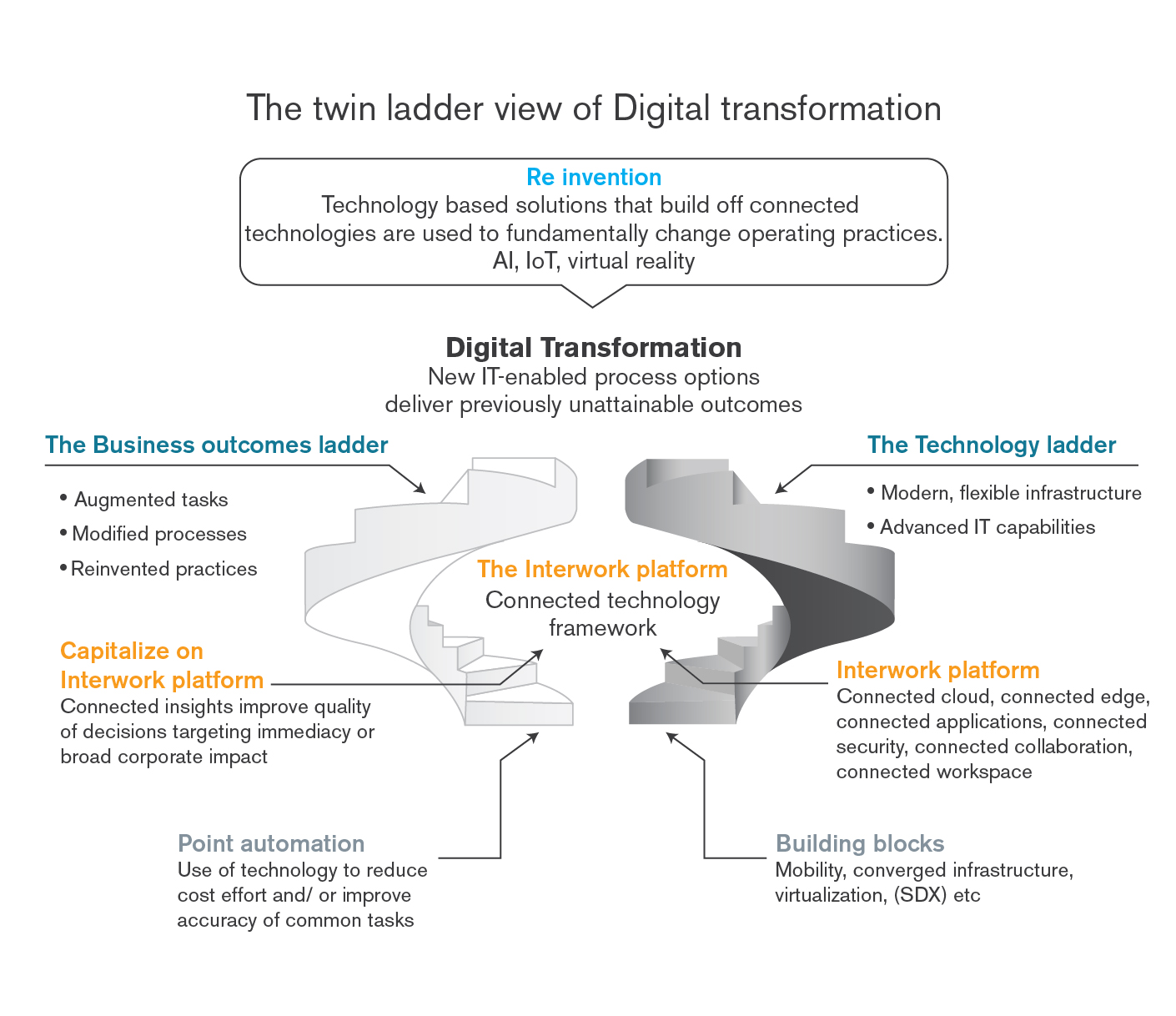 Believers in digital transformation may view these as different points in a single journey rather than discrete market segments. Mobility and collaboration are found (nearly) everywhere, in at least a basic form. Virtualization, analytics and managed services (as a component of a broader solution, not as the solution itself) have been adopted by a clear majority of SMB & midmarket firms, and a reasonably high proportion of firms who are less advanced in their embrace of digital technology. IoT, VDI/DaaS, converged/hyper-converged infrastructure and analytics are somewhat further away, but each is either installed or the plans of 80%-90% of midmarket businesses. Channel partners looking to develop 'building block' offerings should use this data to direct portfolio and skills investments. These channel partners should look for opportunities to tie these deployments to point automation solutions (the bottom of the "business outcomes" ladder) targeting digitization or basic digitalization objectives.
The 'building block' technologies at the bottom of the technology ladder are an essential foundation for digital transformation but deliver modest discrete value: the point automation solutions positioned at the base of the business outcomes ladder will provide rapid but limited benefit through substitution and augmentation.
The technologies associated with the top of the figure illustration – AI, IoT, AR/VR, autonomy, robotics, etc. – are still experimental in most businesses; they are alluring, but it is difficult for most organizations to profitably integrate them into production environments. The figure helps to explain why this is so: for the technologies to be transformative at an enterprise level, they need to extend beyond the Interwork platform.
There is a clear implication in the use of the ladder as the central image: digital transformation requires an escalating level of functionality over time. This seems obvious in context, but it is a somewhat awkward requirement in the context of current channel business models. There are many opportunities for channel members in the DX ecosystem, but some requirements do not fit neatly with any traditional channel business approach.
The Interwork platform technologies build on the base technology layer and are more transformative. They will likely be more challenging for traditional channel members to sell, as the technologies tie to a set of operational objectives (operational efficiency, product/service innovation, employee empowerment, customer intimacy) which in turn are expected to deliver on one or more corporate objectives: increased revenue, improved profitability, better customer interactions and/or increased business agility. To sell Interwork platform initiatives effectively, channel sales professionals will need to help business-side management within client firms to understand how investments in Interwork technologies help businesses to achieve these objectives – and then help the IT professionals in these firms to connect within and across the different categories to deliver on the target outcomes. It is typically difficult for channel firms (or IT vendors, to be fair) to sell effectively to business and IT management, but this connection is critical to support of a twin-ladder approach to digital transformation.