How should suppliers looking to target SMBs with IoT solutions set their strategies? Techaisle believes that strategy starts with the buyer, which in this case, means understanding who the buyer is, what factors are motivating purchase decisions, and how much is available for spend on IoT. From a deployment perspective, IoT straddles an interesting line: it is technically complex, which would argue for deep IT involvement, but it – at least, in more sophisticated solutions – addresses business process issues that are most important to business managers, which would argue for deep line of business (LOB) involvement. What do we see with today's SMB IoT adopters?
Data collected from the Techaisle SMB IoT Adoption survey indicates that in these early days, responsibility for IoT deployment in small businesses is divided relatively equally between IT and LOB management, while in midmarket organizations, IoT is most often the responsibility of IT group.
Data shows that within small business, IoT deployment leadership is divided roughly into thirds. In 34% of cases, IoT initiatives are led by IT, and in another 34%, by business decision makers (BDMs). Other approaches include IoT initiatives led by marketing (15%), by a joint team including IT and LOB (10%), and by others in the organization (7%). Nearly half of midmarket firms report that IT leads IoT deployment activities, with BDMs responsible for IoT deployment in 28% of these companies.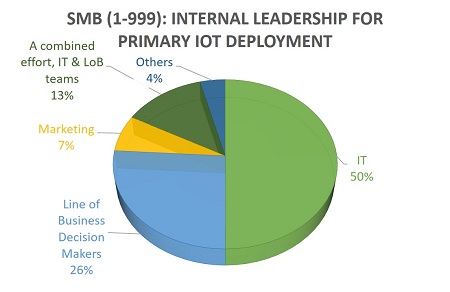 This diffusion of the decision-making unit indicates that there is room for different strategies in the SMB IoT market – or on a less positive note, that addressing the whole market will require messaging and channels that speak to IT, BDMs, marketing, and mixed teams comprised of management from IT and other departments. Given the highly verticalized nature of IoT solutions (and consequently, the need to interact with LOB managers who have very specific needs that are unique within each industry sector), Techaisle believes that most product suppliers will look to focus on ITDMs, who are apt to focus on technology frameworks rather than (only) on vertical use cases, and will attempt to work through indirect relationships (with consultants, integrators and/or resellers) to address BDMs and cross-functional teams.
One issue that they will encounter with this approach is the fact that there aren't a large number of credible IoT implementation partners, and still fewer that have the business understanding needed to work with BDMs or cross-functional teams; those that do will concentrate on a single vertical. As a result, most IoT product vendors will find that channel development is complex.
Vendors that take the less-obvious approach of focusing first on BDMs within one or a limited number of verticals and who then look for technology partners who can work with IT-led accounts in other sectors may have more expansion options available to them.
In either case, though, vendors will have to be adept at identifying and engaging effectively with partners, as competition for relationships and attention/share of wallet within relationships will be intense.