'Knowing what we don't know' is often the thorniest complication in decisions. A unified and contextual insights strategy mitigates this risk by ensuring that data from within the organization is aggregated, giving decision-makers the most complete and up-to-date information possible. Zoho One promises to deliver contextual critical business insights for Midmarket firms and SMBs.
Zoho has 500,000 customers, over 70 million users, and 40,000 customers on Zoho One, a product introduced to the market in 2017. One of the customers has 32,000 employees using Zoho One. What is Zoho One? It is a collection of 45 apps that span all primary business functions, with CRM, analytics, and communications being the most used, followed by accounting, helpdesk, and Sales IQ. Driven by the need for increased team collaboration and conversation in the last year, Zoho Cliq, a chat app, has become the third most used app within Zoho One. Having great success in the services vertical industry, Zoho is making quick inroads into the real estate, banking, and other financial services market segments.
Do businesses subscribe to Zoho One all at once or plod and pedal from one app to many? The answer lies in the market segment. Small businesses adopt and use all apps simultaneously, mainly because they see Zoho One as a path to transformation and digitalization with the least friction. It is relatively easy to adopt a single app, connecting its inputs and outputs to relevant internal systems and processes. Likewise, it is possible to adopt a handful of apps, hand-wiring the interconnections between them and adjacent applications. But this craft-built approach to digitalization is not aligned with longer-term visions of scale, flexibility, and agility. It creates management overhead and performance and security risks for small businesses. Zoho One, an integrated platform, quickly offers a cohesive approach to addressing several business pain points concurrently.
Midmarket firms often explore multiple apps before committing to Zoho One. Either through experience and education, one or several Zoho application parleys to adopt Zoho One or many midmarket firms prefer to work with only a few apps. Zoho's integration with its competitors helps the midmarket firms immensely, making it a more straightforward decision than identifying resources for automation and integration.
While we generally consider "SMB" as a single segment, there are often differences between the "S" and "M" segments – and their approach to cloud business application adoption illustrates one such difference. Midmarket businesses usually have complex deployments. The most common midmarket cloud application workloads provide a technology platform for enabling processes rather than an application platform for expanding the depth of specific tasks within the organization. Small businesses look to the cloud to primarily enable agility, while midmarket firms are also interested in improving IT efficiency.
What is next for Zoho One? There are five new apps, three new services, and seven platform enhancements to help "businesses unify systems, data, and teams." Two announcements interest me the most because they are universally applicable to all small and midmarket businesses regardless of cloud maturity, size, and vertical industry.
Unified, Real-time Insights for Critical Business Decisions
Powered by Zia, Zoho's AI assistant, and Zoho's BI and Analytics Platform, Zoho One allows users to predict and provide insights across the organization, enabling confident decision-making. New announcements include embedded and conversational BI, data preparation, and enterprise search.
The announcement is significant at many levels. First, unified businesses need unified systems. Typically, SMBs meet business requirements by connecting applications that handle a specific condition associated with business processes. SMBs that integrate new applications quickly adjust to process or customer needs, such as addressing customer questions when SMBs introduce a new product. SMBs that lack automation and develop each new connection manually are slow to respond to opportunities or requirements. As a result, SMBs build automation into their cloud business applications. However, the unification of data takes the automation and business process integration up a notch. It improves visibility into business processes and bottlenecks, drives higher levels of customer satisfaction, and streamlines operations. Increasingly, both small and midmarket firms combine data from several sources to power different application blocks. For example, front-office driven by a single view of the customer (leads, sales, and service), apply to accounts, billing, and fulfillment and tying these to the customer history. Specifically, midmarket firms are also using data to manage HR, Talent, and other internal functions. For example, to enable self-service-oriented applications like travel, vacations, and benefits management, and a group of operational data for industry-specific applications like resource planning, materials, and supply chain management.
Secondly, while the difference may seem subtle, the emphasis on unification with real-time insights using conversation BI rather than application integration is significant. Zoho has unleashed tools that enable data mapping between disparate data sources with drag and drop components and embedded graphical mapping features. Unification has to happen at every level of the technology stack. Zoho already manages the infrastructure, has a unified database and a unified data model. All these are now available as unified services, including analytics and enterprise search, within Zoho One, which leads me to the second significant announcement of interest for the small and midmarket segments.
Unified and Personalized Experience with Context
Zoho One's enhanced user experience allows easy customization and personalization of workspaces. In addition, a customizable dashboard with pre-built widgets encapsulates and aggregates data across the entire business providing users visibility across the organization in a single view with the ability to drill down just one click away. Even the query results are shown based on the user's work graph. As a result, SMBs can utilize contextual data as an asset within their businesses. Properly used, the insights presented can increase process efficiency, improve customer interactions, and identify new opportunities to affect the SMB's growth trajectory positively.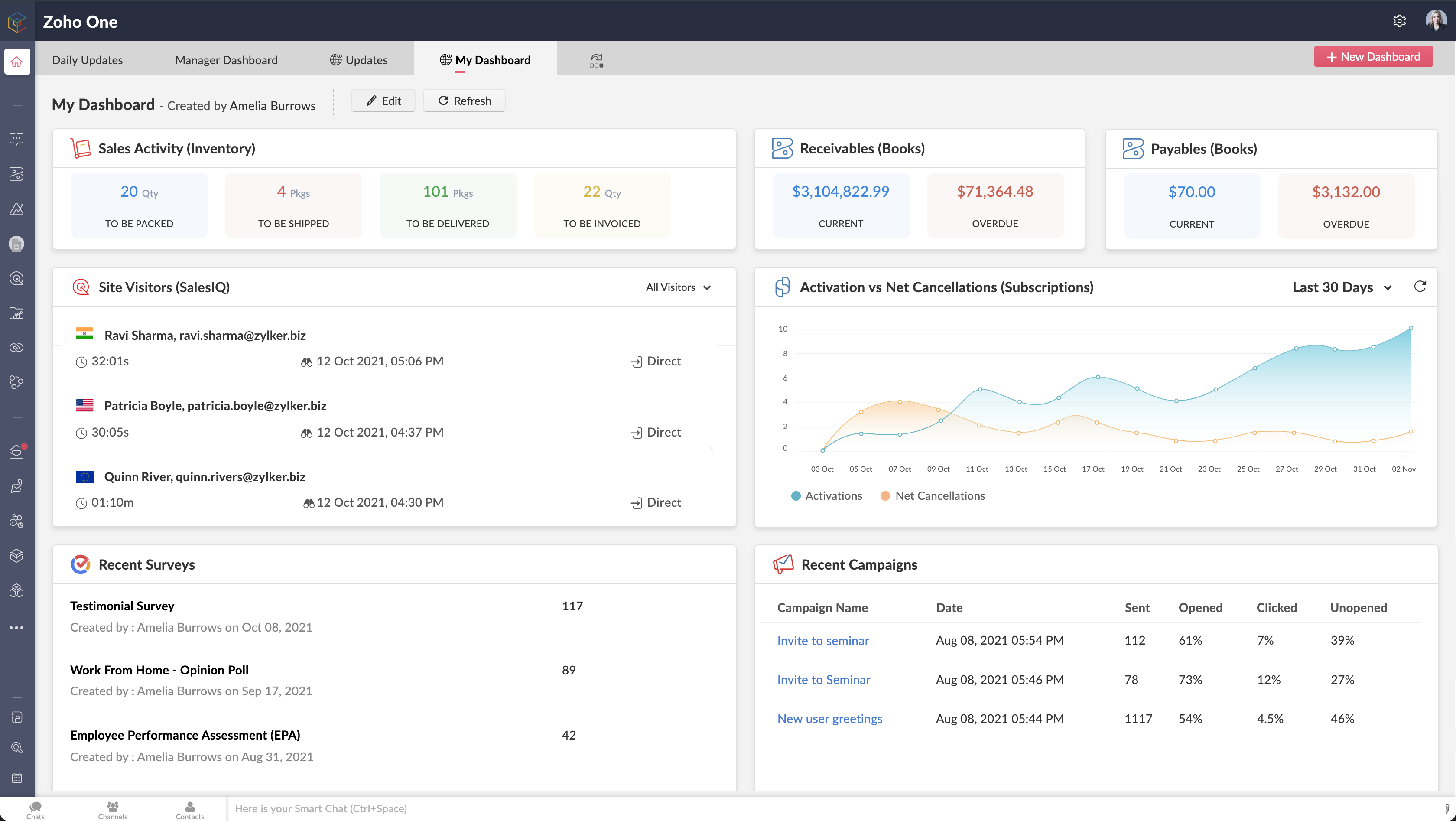 Final Techaisle Take
Why are the above two announcements more significant than the rest? Because they directly address SMB and midmarket pain points. SMB problem solving is a function of obtaining 'the right data' to answer 'the right question.' Inherent in the statement is the assumption that firms seeking information can identify appropriate questions and data sets and use data science to develop the insights needed to deliver the answers required by the business to make informed decisions. This, in turn, requires expertise in structuring questions that are both important to the business and answerable with analytics and depth in finding and using clean, relevant, and complete data. Zoho One now features embedded and conversational analytics enabling decision-makers to drill down into their data and glean cross-departmental insights, all through natural language commands using Zia Insights. With 1,500+ pre-built analytics reports and dashboards, SMBs can make critical business decisions with greater precision and speed. But can SMBs and midmarket firms capture these benefits?
The first is to ensure that the data points are clean and consistent to avoid the 'garbage in, garbage out' problem. Zoho One's self-service data preparation and management tool, powered by machine learning, empowers the small and midmarket firms to model, integrate, clean, transform and catalog data. The next critical step to success is to capture all relevant data in a single, consistent database which Zoho already has in its unified data platform. The third step is to provide the capability to ask questions about the business and to identify the best ways to reduce cost and increase reach, customer satisfaction, and overall revenue. And across all of these steps, it's essential to apply automation wherever possible to ensure that the system and its benefits scale with the cloud business platform. Zoho One enables that too.