A Techaisle survey of nearly 900 midmarket firms on Digital Transformation trends in the US found that more than one-third of midmarket businesses – 34% - view digital transformation as a means of driving product innovation. Regardless of whether the 'product' that an organization produces is a physical good or a service, there is likely a link between DX and breakthrough design and delivery.
In both products and services, the key links between DX and product innovation are insight and agility. As the graphic below shows, these themes permeate the key business issues, innovation objectives and digital transformation drivers that shape the strategy of 'holistic' organizations – the most advanced DX users in the midmarket. These firms are using DX to respond to a set of imperatives that set them apart from their competitors.
Senior executives in midmarket organizations care about digital transformation – and as a result, channel members can leverage their understanding of key Digital Transformation objectives and roadmaps into long-term, sustainable relationships with senior decision makers.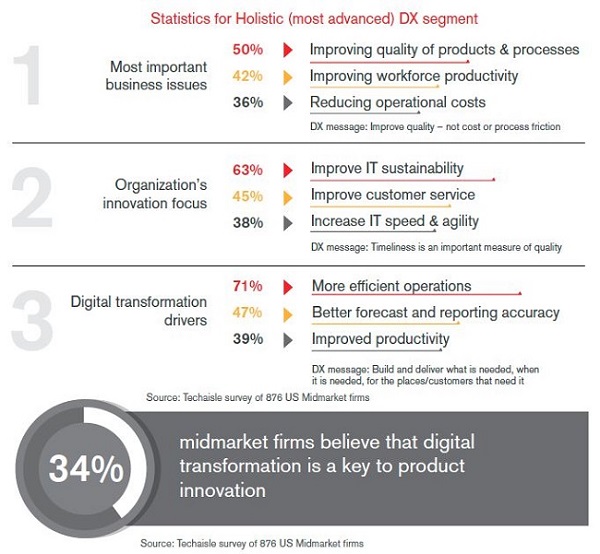 The constraints
As is the case everywhere with digital transformation, constraints to driving product innovation with DX arise within IT and in other areas of the business. US-based midmarket firms, in fact, identify workplace transformation – the ability of the organization to capitalize on new IT options- as their single biggest IT challenge for 2018. This is followed on the "top 10" list of midmarket IT challenges by budget constraints, security and data management issues, and connectivity and integration.
Trusted channel members may not be able to increase client IT budgets, but they are well positioned to help address the other constraints faced by midmarket firms looking to use DX to drive product innovation. Armed with an understanding of the best ways to roll out DX within a midmarket firm, a trusted advisor can help both executives and IT to define an approach to workforce and process evolution that will optimize returns from DX investments. And by bringing together IT and business stakeholders to define quality, timeliness and agility objectives, a channel partner steeped in DX knowledge can help build a long-term digital transformation roadmap that will deliver continuous innovation benefit to the customer organization.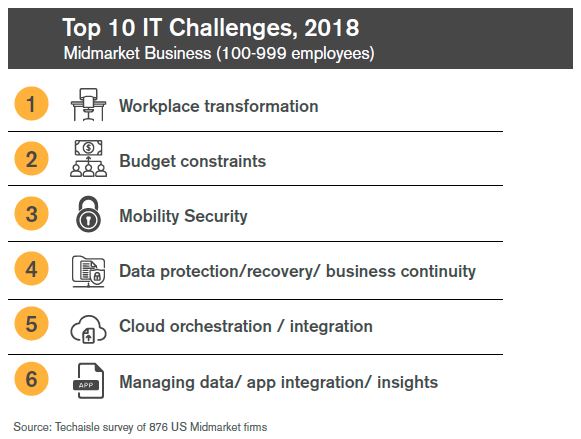 Bridging the gap
There is an enduring connection between innovation and success. In the third century AD, Greek philosopher Plotinus declared that "knowledge, if it does not determine action, is dead to us" more than 1700 years later, Apple founder Steve Jobs observed that "innovation distinguishes between a leader and a follower." The midmarket firms that pursue digital transformation as a means of driving product innovation are looking to use the insights that they can aggregate via new technologies to inform IT-enabled production and delivery processes – to differentiate their businesses, building positions as leaders who understand their opportunities and customers better than their competitors.
Channel partners can help customers to translate the knowledge that they collect from digitized systems into innovative products and processes. DX-savvy partners can identify the IT roadmap needed to build DX capabilities, and can work with executive clients to develop an approach to connecting the knowledge that arises from DX systems to the workplace activities of product/process innovators within the organization.
Midmarket firms that are looking to connect digital transformation to product innovation have a clear objective, but likely lack a detailed evolutionary plan. These firms need suppliers who are able to establish the technical and operational roadmaps that align with the digital business world.