Techaisle just released its latest channel partners trends research covering over 2000 partners. The first primary focus of Techaisle's channel research focuses on issues that shape the actions of channel organizations: the strategic priorities of the executive team, revenue sources and changes, financial resources, and go-to-market considerations and investment priorities. Vendors who obtain a more profound understanding of the channel's 'inner workings' are, Techaisle believes, better positioned to direct their own activities to address the most critical concerns of channel partners. In the post-pandemic macro-economic driven uncertainties, an unsettled supply chain, cloud-led transformation, ecosystem participation, and essentially undifferentiated vendor-partner programs, partners are seeking new vendor partner asks and newer engagement models..
Each year, Techaisle asks decision-makers in the channel to identify their top business issues and develops a 'top 10' ranking based on this information. This list serves as the industry standard for understanding the business issues that define actions, interests, and investments for the coming year.
The latest findings show that "managing uncertainty" is the top business issue cited by 45% of channel partners, up from 34% a year ago. "Driving growth," identified by 43% of channel decision-makers as an essential priority for the next 12 months, is the #2 concern of channel executives – it was the top concern in 2022, 2021, and 2020.
Scanning the balance of the list, we see a central theme as per the survey of 2115 channel partners - issues relating to efficiency and control are becoming more important, while those relating to expansion are declining. Nearly half of the partners plan to focus on cross-selling/upselling to their existing customers over chasing new customer logos. Marketing is focusing on the "land" part of the sales process, and sales are increasing its focus on the "expand" part of "land and expand."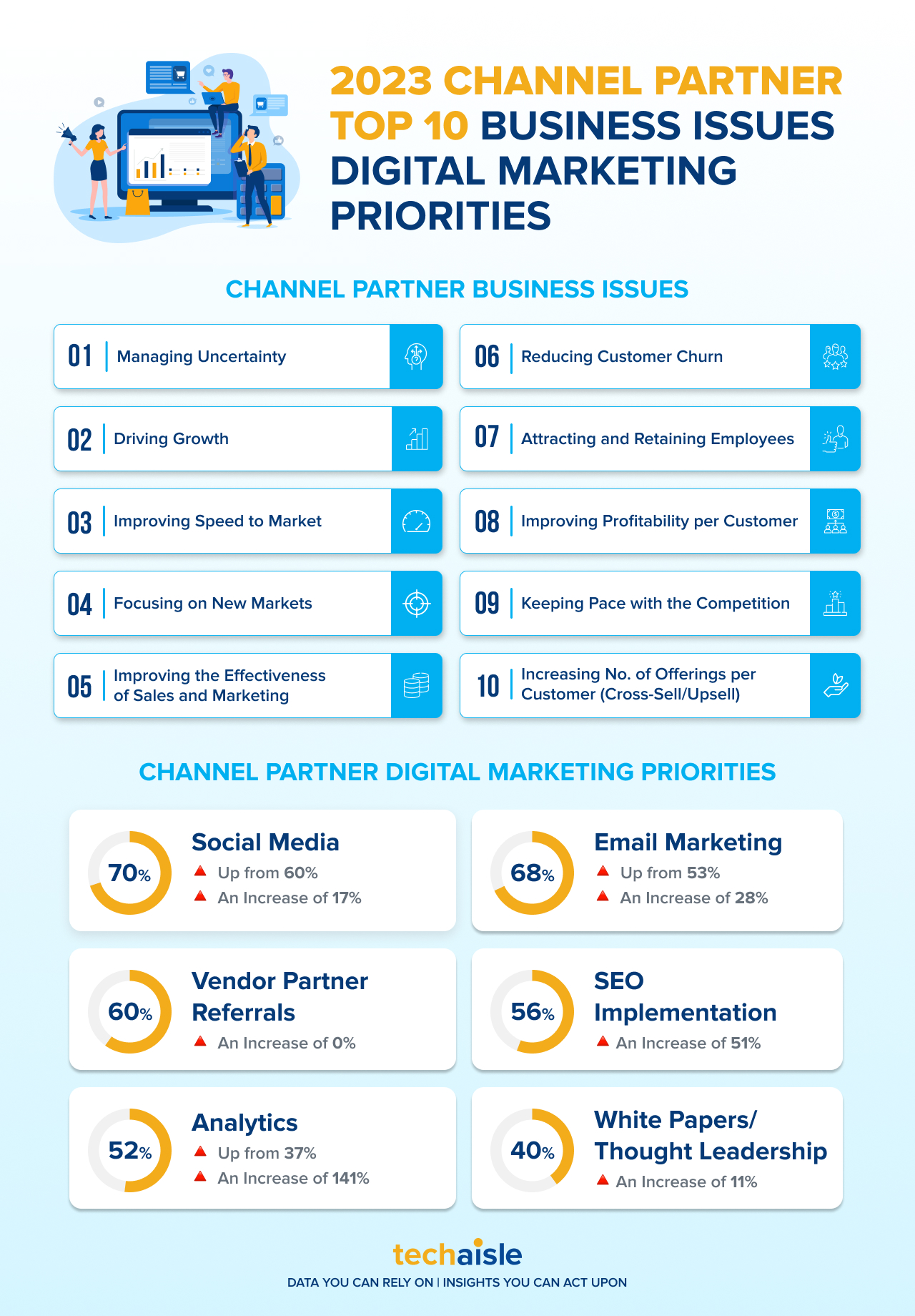 The pendulum swings in priorities are never permanent, and the discrete priorities captured here will shift over time. The data provides essential input to the business executives within vendors' partner organizations regarding the issues most likely to resonate with today's channel leaders and those that might represent crucial objectives in the abstract but are currently lower on the partner priority list.
Drilling into the digital marketing end, Techaisle asked respondents to identify which digital marketing tactics are currently used within their businesses. As with lead generation, consistent year-over-year data enables us to comment on both prominences of different approaches and trends within the channel.
One significant change in the channel's approach to digital marketing in 2023: analytics has jumped by 141% and joined social media marketing, SEO, and email marketing as critical arrows in the digital marketing quiver. Marketing initiatives targeted at online influencers have decreased significantly. At the other end of the spectrum, digital content publishing is increasing as investments in search engine and social media marketing are increasing.
There are clear opportunities for vendors to expand their influence with partners by enhancing digital marketing activities. The data also suggests that a lack of content may constrain channel members – they are investing in driving traffic but have reduced capacity to use thought leadership to engage visitors. Vendors can work with partners to increase digital marketing quality, efficacy, and content.
Click here to download the 2023 Top 10 Channel Partner Business Challenges, Digital Marketing Priorities infographic.