Direct Link: http://techaisle.com/images/techaisle-smb-cloud-customer-service-application-planned-infographic-highres.jpg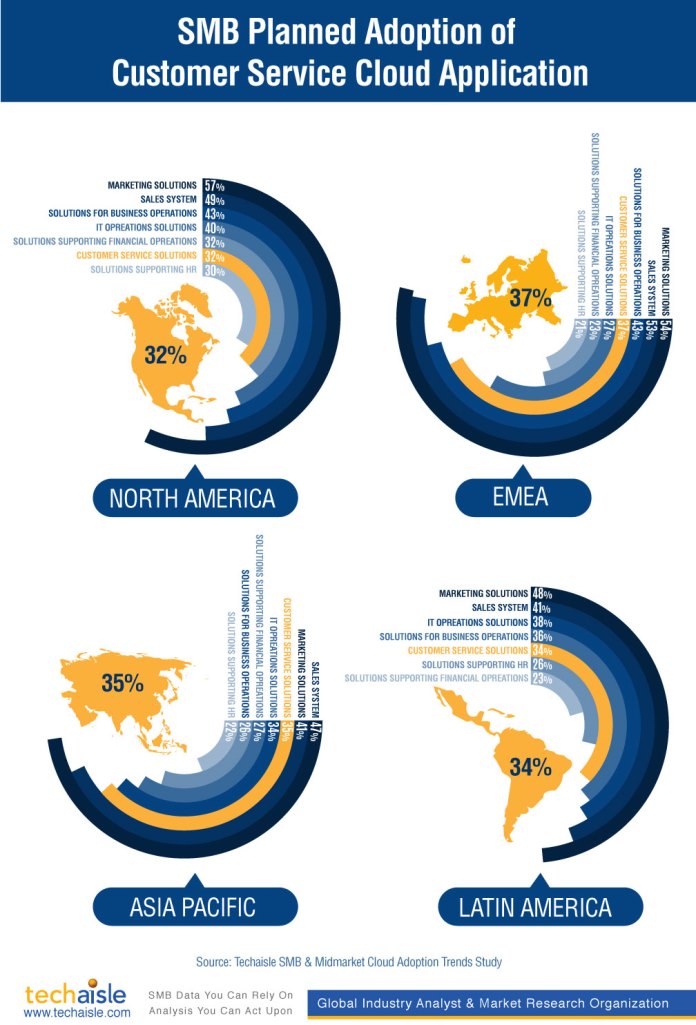 The improved visibility resulting from cloud-based sales and marketing automation systems has in turn illuminated the need for, and potential associated with, better and better-integrated customer management and support processes. This insight is prompting increased investment in systems automating customer support tasks: Techaisle's global SMB survey data shows that customer service is among the top cloud applications planned for adoption within the next year.
The impact of increasing the customer base and improving customer satisfaction is manifest across many different SMB business objectives – attracting and retaining new customers, increasing business growth, keeping pace with competition, and focusing on new markets are all C-level issues that rely on market reach and effective customer management. For example, executive focus on growth leads directly to demand for improvements in sales and marketing – and in today's market, these improvements are generally delivered in the form of CRM systems that improve sales process efficiency and visibility, and social marketing systems that capitalize on connectedness within an economy that increasingly relies on person-to-person, cloud-enabled communications rather than broadcast and print media for information.
Social marketing and CRM are two of the key applications that link cloud infrastructure to top-line growth objectives. It is unusual for platform technologies to be viewed as business growth drivers, but cloud isn't really a platform technology – it's a means of rapidly delivering capabilities needed to compete in evolving markets. When asked whether cloud is primarily a driver of new opportunity or a way of achieving cost control, 80% of Techaisle's SMB Cloud Computing Adoption and Trends study respondents reported that cloud helps their business grow. Cloud-based solutions (including, and particularly, CRM) provide the insight needed to manage a sales and marketing funnel and attract and retain new customers.
Blog article on SMB Wheel of Productivity spins to cloud-based customer service applications here