Direct Link: http://techaisle.com/images/smb-infographics/2017-top10-mid-market-it-priorities-business-issues-techaisle-infographics.jpg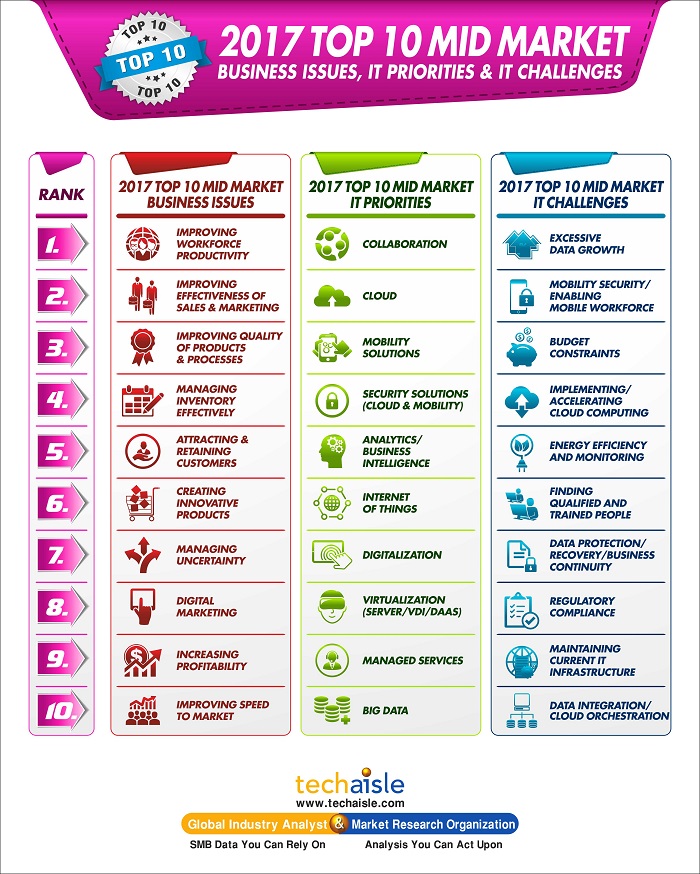 What are the Top 10 IT Priorities, Business Issues and IT Challenges of midmarket businesses in 2017? Data in infographics is based on Techaisle's global SMB and midmarket research. In its detailed SMB and Midmarket survey Techaisle investigated 15 different technology areas and a lot more sub-technology areas, 24 different IT challenges and 19 different business issues.
This is the 5th year of Techaisle tracking at a WW level and is much awaited and sought after by IT vendors, channels and media. There are some differences by regions.
For 2017 data shows some major changes – Digitalization is has become a priority, Improving workforce productivity has catapulted to the top of business issues, Enabling mobile workforce is among the top 3 IT challenges and Cloud, Collaboration, Mobility and Security are the top IT priorities.