Given below is a brief table of contents:
Executive Summary
Collaboration in the context of IT solution priorities
Differences between small and midmarket businesses
Growth objectives drive collaborative solution investment
BDMs are more likely to see collaborative technologies as driving growth
Current and planned use of collaboration solutions
The essential link between mobility, communication and collaboration
What's needed to deliver on collaboration?
Small and mid-sized businesses have similar collaboration needs
Understanding the pattern of collaboration technology adoption
Deployment scope further impacts buyer requirements
The connection between SaaS applications and collaboration
SaaS workloads underscore the importance of collaboration
Workloads explicitly focused on collaboration
Workloads where collaboration is a key differentiator, attribute or outcome
Workloads where better collaboration or reporting within/across departments/functions and/or with external stakeholders is a key outcome
Current and planned use of communication solutions
Trends in email & voice communications
Software-based communication channels usage trend
Current & planned use of video conferencing
Current & planned use of Hosted VoIP
Video conferencing & hosted VoIP usage by IT sophistication segments
Video conferencing & hosted VoIP adoption by managed & unmanaged IT
Current & planned usage of unified communications as a service
Business issues driving adoption of communication & collaboration solutions
Business drivers for collaboration solution adoption
Success metrics for communication & collaboration solutions
Purchase process, buyers journey and points of influence
Sources & channels of information – points of influence
Buyer 'care-abouts
Key decision factors
Role of stakeholders
Aligning marketing messages with the acquisition process
Communication & Collaboration buyers – balance of decision authority
Primary buyers of communication & collaboration solutions
Targeting the lead buyers: focusing on the BDM
Future SMB trends in collaboration solution adoption drivers
Difference in approaches between small & midmarket business
Waves of collaboration adoption
Unified collaboration & communication workspace
Concluding observations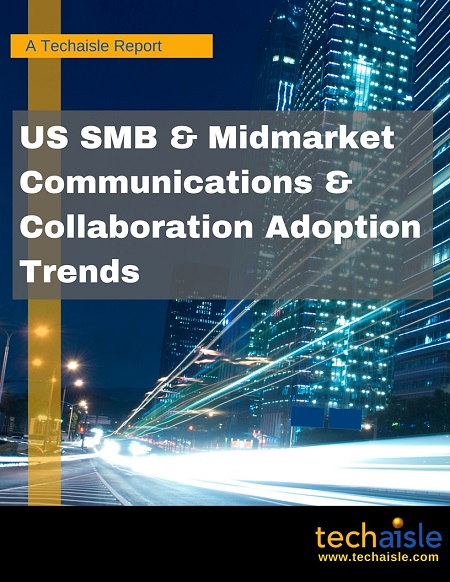 The survey was conducted in the US with SMBs and midmarket firms. Techaisle defines small businesses as 1-99 employees and midmarket firms as 100-999 employees. Sample quota was set by employee size categories as well managed and unmanaged IT. The survey was administered to both IT decision makers and business decision makers to understand the differences in attitudes and objectives dricing use of communication and collaboration solutions. A 25 minute questionnaire was administered to each respondent.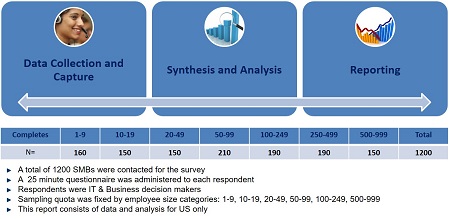 The report is delivered in Word/pdf format, approximately 60 pages and consists of charts, figures and extensive analytical narrative.
The US report is available for purchase for US$4500. Pricing includes 2 hours of inquiry time. For annual subscription service buyers the report is include in the relevant purchased subscription service. Individual reports can be purchased eithe via credit card or purchase order or payments can be amde via check.