Table of Contents
Executive Summary
Aligning SMB & midmarket mindset with opportunity
Connecting video collaboration with SMB high-growth business attributes
Importance of F2F video in meetings' success
Addressing the alignment gap – the 'four fictions'
Evolution of collaboration discussion
Three personas of video collaboration adopters with SMBs
Landing on a solution
Essential features of high-value, growth-enabling collaboration systems
Maximizing investment for SMBs: Keys to collaboration ROI
Organization-wide keys to collaboration ROI
Keys to driving collaboration ROI within corporate functions
Conclusion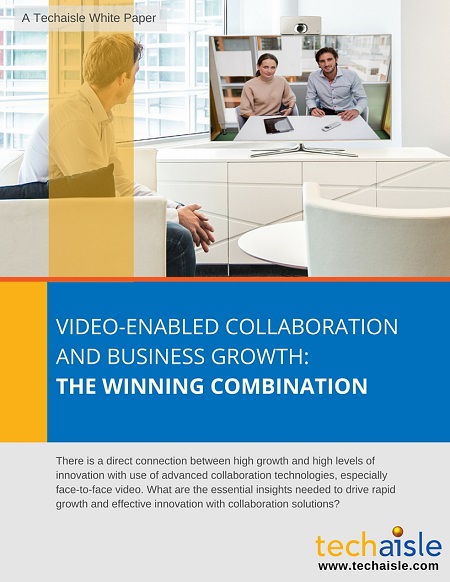 List of Figures
Figure 1: The business benefits of F2F video in high-growth, innovative businesses
Figure 2: The connection between high-growth business attributes & F2F video benefits
Figure 3: Benefits realized through use of F2F video in meetings
Figure 4: Three personas, three approaches to advanced collaboration technologies
Figure 5: Important F2F video solution features
Figure 7: Keys to driving enterprise-wide ROI from video-enabled collaboration
Figure 8: Keys to driving video-enabled collaboration ROI within corporate functions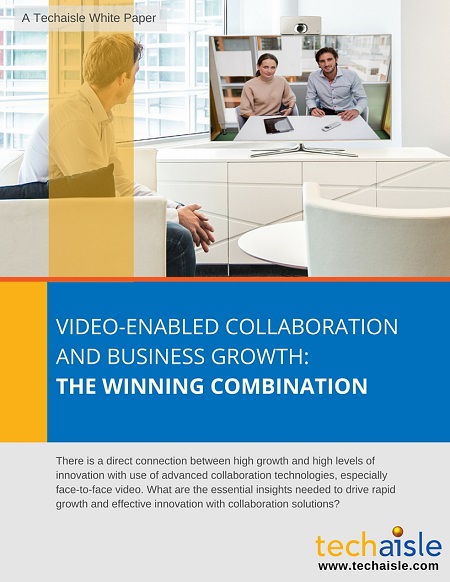 Key business drivers for collaboration are changing…..
Specifically, within SMBs and midmarket businesses, future collaboration adoption efforts will be driven by demands for decision agility, speed of innovation, customer intimacy and faster time to market.
Early SMBs & midmarket collaboration solution users tell Techaisle that they invested in these solutions because a lack of teamwork was impacting productivity. While the creation of a central information repository was the most important business driver for collaboration solutions adoption to the "first wave" of users, it is not so for the new buyers. New adopters are saying that they are having difficulty coordinating meetings (as a consequence of increased employee mobility, dispersed team members, ad hoc scheduling), and that they need to address slow decision-making within their organizations.
…and Video-enabled collaboration is the new imperative of innovative, high growth businesses
A global Techaisle survey (commissioned by Cisco) of 1269 SMBs and midmarket businesses found that irrespective of the size of business, video-enabled collaboration is necessary for business agility – decision agility, innovation agility.
The survey found that for high-growth, innovative businesses, effective, efficient collaboration is in their organizational DNA and video-enabled collaboration solution is integral to success driving decision agility, participant trust because it leads to faster decision making, improved employee productivity, a more personal interaction experience and better teamwork.