Techaisle has deep experience in conducting primary research with end-user organizations and channel partners across numerous countries. Leveraging a robust, phone recruited BDM (Business Decision Makers) and ITDM (IT Decision Makers) respondent network of businesses and channel partners, Techaisle conducts online, phone and especially in emerging markets, face-to-face interviews. A key aspect of Techaisle's capability is to accurately define the demographic universe in each country allowing for proper weighting and extrapolation.
In addition to its business ITDM/BDM respondent network of over 900,000, a channel partner network of slightly over 200,000 covering different geographies has also been created. The partners consist of VARs, SIs, SPs, MSPs, IT Consultants and ISVs. The respondents are carefully recruited over the phone ensuring better profiling and screening and a direct contact with the panel members resulting in higher than industry average response rates and data quality. Phone based recruitment at business phone numbers ensures no "professional" survey takers and double opt-in method is used to confirm participation.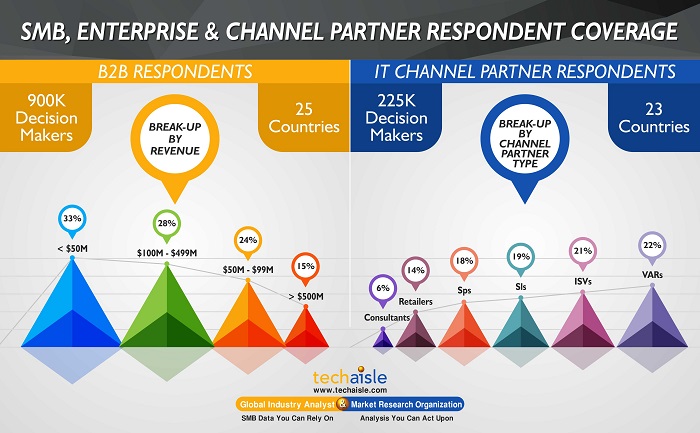 Detailed profiles that are updated quarterly enables specific targeting by technology, functions and responsibilities. At minimum following information is collected and updated: Role of respondent, revenue, employee size, and industry vertical, number of locations, years in business, past performance and growth plans, IT budget, current and planned technology usage.
Techaisle conducts both quantitative and qualitative surveys in English, Spanish, French, Portuguese, German, Italian, Hungarian, Turkish, Russian, Mandarin, Cantonese, Korean, Malay, Filipino, Bahasa, Vietnamese and Arabic languages.
Techaisle has conducted several different types of custom primary studies covering businesses and channels including but not limited to:
Brand image and awareness
Brand Equity
Customer satisfaction
New product development, ad- awareness, concept testing, product testing
Product/Service Usage and attitude
Market trends analysis
Marketing communication program development
Market segment penetration
Price sensitivity
Clients rely on Techaisle to conduct depth-interviews at all levels of IT and business decision hierarchy from CIOs at Enterprises to Office Managers within very small businesses.
Some of depth interview studies include:
SMB Cloud decision making
Role of IT consultants in IT selection
Managed services adoption
Usage of networking and storage technologies
Chromebook and Chromebox for Meetings adoption
Video conferencing solutions adoption
Channel purchases and sales of cloud productivity solutions
VDI/DaaS adoption
And many other studies