Techaisle is a data-driven global SMB IT Market Research and Industry Analyst organization. Techaisle was founded on the premise that Go-to-Market strategies require insightful research, flexible data, and deeper analysis. Understanding the value of data consistency across markets to inform strategic planning, Techaisle has remained holistic in its approach to Insights and provides globally consistent SMB and Channels analysis across geographies. Techaisle's believes that data is inherently more valuable when it can be summarized and delivered as the answer to a specific question.
To achieve its objectives, Techaisle conducts surveys with SMBs and channels to understand market trends, opportunities, buying behavior, purchase intent, and IT priorities. In addition to covering emerging technologies such as SMB cloud computing, managed services, mobility, social media usage, virtualization, business intelligence, big data, collaboration, networking its channel research coverage provides in-depth understanding of resellers and channel partners globally. Techaisle's insights are built on a strong data-driven foundation and its analysts are conversant with both primary research and industry knowledge, which is a rare combination.
Techaisle is consciously focused on bringing to its clients data they can rely on and analysis they can act upon. Besides its quality of data and analysis other key differentiators are Techaisle's flexible data delivery and fanatical responsiveness.
What makes Techaisle different from other market research companies?
Traditional market research companies are great at providing historical perspective and research that may be impractical and transient. Techaisle's senior management team members have spent an average of twenty five years with major research companies. They have experienced the deficiencies in methodologies and reporting of these companies. Therefore Techaisle consciously is focused on bringing actionable analysis, deeper segmentation, flexible data delivery, and fanatical responsiveness.
What are some of the ways that makes Techaisle's research more actionable?
Great research begins with a precise questionnaire. We pride ourselves in designing questionnaires that capture the why, the how, the when, the who and the what of IT priorities and investment. In addition, our segmentation and predictive modeling teams develop insights that are clearly understood and easily deployable by sales, marketing, product management and market research groups.
What are the benefits of using actionable analysis and deeper segmentation?
With actionable analysis and deeper segmentation you gain a better understanding of market opportunity and demand. This is especially true as opportunities move increasingly to Emerging Markets, Emerging Technologies and SMBs. At the same time consumers are transforming and channels are evolving. Our longitudinal surveys cover businesses and channel partners across multiple countries.
Learn more about our services and our areas of research.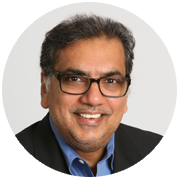 Anurag Agrawal
Heading Techaisle, Anurag Agrawal is a veteran Market Research executive with over 25 years of proven track record in market research and data analytics. Anurag is responsible for providing strategic direction for Techaisle. As an Industry analyst he focuses on the SMB market (frequently referred to as SMB Guru) and Channel segment. He frequently writes and advises IT Vendors on cloud computing, routes-to-market, emerging technologies, mobility, big data, virtualization, Industry and Channel Dynamics.
Prior to Techaisle, Anurag was the Chief Operating Officer at AMI-Partners. Anurag has also worked with Knowledge Networks as Senior Vice President, Operations responsible for consumer panel, data analytics and survey software development. Previously Anurag headed Gartner's Worldwide Research Operations. As a Vice President, he managed data collection and analysis for hardware, software, services groups, as well as launched and implemented Gartners' quarterly tracker products and IT Market Databook. He began his market research career with IDC, where he was responsible for launching IDC's quarterly tracker research.